Jill Overmyer
A new seat belt law in Illinois took effect Jan. 1, 2012. It's tougher than the old one and will require passengers of all ages in all seats to buckle up.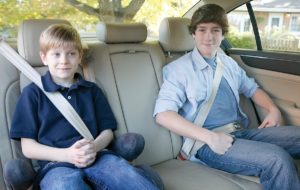 Illinois seat belt law overview
Illinois' mandatory seat belt law, first enacted in 1988, has been revised a number of times over the years. Before the new law, which was signed by Gov. Pat Quinn in late June, only drivers and front-seat passengers were required to wear seat belts in Illinois. Those sitting in the back had to buckle up only if they were under age 18.
The new law takes things a step further by requiring all passengers in the vehicle to wear a seat belt, regardless of their age or where they are sitting. Anyone in the vehicle not wearing a seat belt will be fined a maximum of $25. Exceptions to the law include emergency vehicles, taxis and buses.
Like the old law, the new one is a "primary" law. That means police officers in Illinois can stop vehicles based on seat belt use alone. Officers in states with "secondary" laws, meanwhile, can pull over a vehicle only if occupants are breaking another law (like speeding).
Possible benefits
According to the National Highway Traffic Safety Administration (NHTSA), 63 percent of those killed in car accidents were not wearing seat belts. The new seat belt law in Illinois is designed to benefit drivers and passengers by reducing the number of accident-related deaths and injuries that could be prevented through the use of seat belts.
In 2009 alone, an estimated 12,713 lives were saved because drivers and passengers were wearing seat belts, according to NHTSA. Had 100 percent of drivers and passengers been wearing their seat belts, an additional 3,688 lives would have been saved.
Seat belt laws throughout the country
Illinois is just one of many states that have "click it or ticket" laws in place. Currently, 32 states and the District of Columbia have made seat belt use a primary law, according to the Insurance Institute for Highway Safety (IIHS). New Hampshire is the only state in where seat belt use is not mandatory for at least some drivers.
The use of seat belts can have an effect on lawsuits in a number of states, according to IIHS. For example, in 16 states (Illinois not included) a "seat belt defense" can be used in civil cases, meaning monetary rewards are reduced for those who were not wearing safety belts at the time of an accident.