Amy Higgins
Even though they can get it for free, our nation's seniors aren't getting the recommended amount of preventive care, according to a report from the U.S. Department of Health and Human Services (HHS).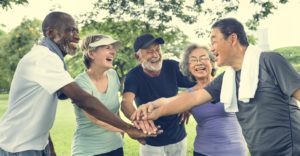 Medicare (available to those age 65 or older) provides each beneficiary with a free "wellness visit" each year that includes a range of preventative services. Colorectal cancer screenings and influenza and pneumococcal vaccinations are especially important for older adults, yet the HHS report found that:
More than 31 percent of adults 65 and older reported not receiving a flu vaccination in the past year (2009).
More than 33 percent of adults 65 and older reported not ever receiving a pneumococcal vaccination.
More than 36 percent of adults 65 to 75 reported not receiving a colorectal cancer screening.
Senior citizens who fail to receive preventive health services may be putting their lives in danger because, according to the report:
About 85 percent of deaths and 63 percent of hospitalizations attributed to the flu occur in people 65 and older.
Vaccination against pneumococcal disease in adults 65 and older improves the chance of survival, decreases the chance of respiratory failure or other complications and decreases the length of the hospital stay for patients with community-acquired pneumonia.
Two-thirds of all new cases of colorectal cancer are in people 65 and older.
Other recommended preventive actions that, according to the report, are vital for seniors include:
Breast cancer screenings.
Cervical cancer screenings.
Blood pressure screenings.
Cholesterol screenings.
Osteoporosis screenings.
Smoking cessation counseling.
Diabetes screenings.
Alcohol misuse screenings and counseling.
Aspirin use.
Obesity screening and counseling.
The report suggests that more than 2 million more people would have been alive during 2006 if just some of the recommended preventive services had been used widely.
Protecting yourself for free
New health care reform provisions regarding Medicare went into effect Jan. 1, 2011. Under the new law, many preventive services are free of charge for Medicare beneficiaries — if they take advantage of the free annual wellness visit.
According to HHS' Healthcare.gov website, Medicare currently covers the following preventive services free of charge for beneficiaries:
Mammograms.
Colorectal cancer screening, including flexible sigmoidoscopy or colonoscopy.
Cervical cancer screening, including a Pap smear test and pelvic exam.
Cholesterol and other cardiovascular screenings.
Diabetes screenings.
Medical nutrition therapy to help people manage diabetes or kidney disease.
Prostate cancer screening.
An annual flu shot, a vaccination against pneumococcal infection and the hepatitis B vaccine.
Bone mass measurement.
Abdominal aortic aneurysm screening to check for a bulging blood vessel.
HIV screening tests for people who are at increased risk or who ask for the test.
According to the HHS report, some states already have eliminated co-pays for other cancer screenings. As new services, tests and screenings become available and are recommended by the U.S. Preventive Services Task Force, Medicare will expand its free preventive services to include them, according to Healthcare.gov.
Awareness 101
Preventive health care services are designed to improve patients' health and wellness which can prolong their lives. With all of the available Medicare options, it seems surprising that so many older adults are not receiving care. Some senior citizens may not be aware of what their Medicare coverage includes. Others may not realize they're at a higher risk for certain conditions. Some may be frightened to receive health care services (and the test results) or have difficulty getting to the doctor.
To ensure more Medicare beneficiaries understand and take advantage of preventive health care services, the HHS report recommends a variety of interventions directed at seniors' health care concerns. These include using videos and printed materials to increase awareness of available services and benefits, and offering multiple services in one location so that staying healthy becomes more convenient.