If you're an Alabama resident looking for insurance, you're in the right place. We've compiled all the info you need to help you find home, auto, life, health or long term care insurance right here on this page.
We recommend you read it over, contact the Alabama Department of Insurance at 334-269-3550 with any questions, and let us help you find the coverage you need today.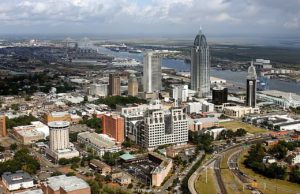 The State of Alabama requires all motorists to carry liability coverage. If you are caught driving without it, your first offense will result in a $500 fine and the suspension of your driver's license,
The minimum liability amounts you must purchase are as follows:
$25,000 total for bodily injury coverage per person
$50,000 total for bodily injury coverage per accident
$25,000 total for property damage per accident
Remember that these are the minimum requirements set by the state. They may not cover damages from lawsuits arising from an accident, nor do they cover any damage caused to your car. If you'd like to protect your car, in addition to others' vehicles, talk to an insurance agent about adding collision and comprehensive coverage to your policy.
For many drivers, discounts provide relief from high car insurance premiums. You will want to ask for discounts on the following:
Insuring multiple cars
Insuring a car and a home
Completion of driver's safety courses
Good driving record
Student drivers maintaining a B average
Low mileage
Please note: Discount amounts may differ from one insurance company to another, so be sure to ask about the discount amount before purchasing a policy.
You must use common sense when shopping for health insurance if you want to make the best purchasing decision possible.
To help you get the best health insurance policy at the right price:
Read all insurance documents thoroughly, ask questions about anything you do not understand, and do not sign anything until all questions are answered.
Dig deep for all available health insurance discounts.
Set your health insurance deductibles as high as possible to keep premiums low.
Call or visit the Alabama Department of Insurance online to acquire additional tips and up-to-date information on Alabama health insurance.
Nationwide, the health insurance marketplace faces tough times as the cost of health insurance continues to rise.
Discount health care plans, often appealing to consumers because of their low cost, often promise huge discounts on medical care. But beware—these are not real health insurance plans! When shopping for insurance coverage, you need to understand that, although these plans offer medical-service discounts, they leave you personally responsible for all medical bills incurred.
Discount plans usually charge members a membership fee for a list of participating discount health care providers. However, they are not regulated by the state, and offer no consumer protections.
If you are considering purchasing one of these plans, please be aware that they should only be used as a supplement to your regular health insurance plan. In addition, you may have no recourse if involved in a dispute with a discount health provider.
A homeowners insurance policy protects your home and personal property in the event disaster strikes. It also provides protection against liability for accidents that injure other people or damage their property.
These protections are essential, and can mean the difference between losing your home and facing only temporary repairs, or being held personally liable in a lawsuit.
Home insurance companies determine prices based on several things:
Type of construction
Your home's age
The distance between your home and fire protection
The amount of coverage you decide to buy
The deductible you choose
Any discounts you for which you may qualify
Tips to Keep in Mind:
Frame homes usually cost more to insure than brick, and some companies may either not insure older homes at all, or may offer limited coverage if your home is of a certain age.
On the other hand, you may qualify for a discount on your home insurance plan if your home is new, or if you insure both your home and your car with the same insurer.
Higher deductibles reduce the price of your home insurance policy, but also mean more out-of-pocket expense if you file a claim.
Floods:
Homeowners and mobile home policies generally do not cover floods. Find out if you are in a flood zone and whether you are eligible to purchase flood insurance through the National Flood Program. Call the National Flood Program at 1-800-638-6620 for more details. Please be advised that there is a waiting period for eligibility, and that not all properties qualify for coverage.
When you die, your loved ones will require financial resources to cover lost income and expenses related to your death, the family home, transportation and other monetary obligations.
Your life insurance policy provides that financial security in your absence when you can no longer provide it yourself. In essence, it becomes your survivors' financial nest egg, enabling those left behind to make wise decisions regarding their future, including issues such as jobs, relocations, college educations and remaining debts.
More than eight out of 10 U.S. families have some form of life insurance coverage today, according to the Alabama Department of Insurance. Most are family breadwinners looking to meet the future financial needs of their dependents such as a spouse, children or elderly parents. But some people also purchase this protection to build up cash reserves for a future event, such as retirement or estate taxes.
Whatever uses life insurance provides you and your loved ones, nearly everyone needs the security and protection it brings.
When you complete a life insurance application, insurers gather information about you, such as your age, gender, health, occupation and hobbies. This enables them to group you together with other people having similar characteristics, and then calculate a premium for the entire group type based on its risk of death. Everyone within your risk group pays the same premium amount. This process is known as risk classification, or underwriting.
When you purchase life insurance, you sign a contract with the insurance company agreeing to pay a set sum of money over a specified period of time. In return, your insurance company promises to pay your beneficiaries, at the time of your death, a predetermined lump sum.
Here are 10 rules to remember when buying life insurance, courtesy of the Alabama Department of Insurance:
Understand and know what your life insurance needs are before any purchase, and make sure that the company you choose can meet those needs.
Buy your life insurance from a company that is licensed in your state.
Select a producer who is competent, knowledgeable and trustworthy.
Shop around and compare costs.
Buy only the amount of life insurance you need and can afford.
Ask about lower premium rates for non-smokers.
Read your policy and make sure you understand it.
Inform your beneficiaries about the kinds and amount of life insurance you own.
Keep your policy in a safe place at home and, in addition, keep your insurance company's name and your policy number in a safe deposit box.
Check your coverage periodically or when ever your situation changes, to be sure it meets your current needs.