If you're an Alaska resident looking for insurance, you're in the right place. We've compiled all the info you need to help you find home, auto, life, health or long term care insurance right here on this page.
We recommend you read it over, contact the Alaska Division of Insurance at (907) 465-2515 with any questions, and let us help you find the coverage you need today.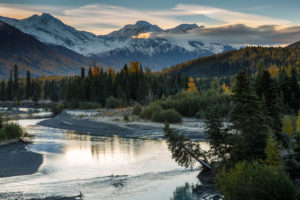 Alaskans must purchase only liability coverage, which protects you when you are financially responsible for an accident. Two types of protection fall under the heading of liability on your auto insurance policy:
Bodily Injury (BI): $50,000 per person and $100,000 per accident minimum
Property damage: $25,000 per accident minimum
These liability amounts are often referred to as 50/100/25 coverage. To clarify, bodily injury coverage pays for medical costs, loss of income and funeral expenses incurred by others when they are injured or killed as a result of your negligence. On the other hand, property damage repairs or replaces others' property damaged in the same type of situation.
Experts recommend purchasing more than the state minimums to protect yourself against possible seizure of your home, savings, future wages and other assets in case of an accident. If at fault and sued, you could become financially liable for expenses such as court costs and lawyer fees, as well as any related damages.
As you shop for auto insurance, discuss these issues with insurers. These experts can help you determine how much you should buy based on your individual situation.
Health Insurance
Health insurance typically comes in either group or individual plans. 51 percent of Alaskans hold group insurance through an employer. Others find group coverage through professional associations or other small groups. The remainder gets government assistance, purchases individual insurance from local agents or companies—or goes completely without health insurance coverage.
Before you purchase a medical insurance policy, read it carefully. You need to know exactly what is and isn't covered; how much your premiums are; how to choose a health care provider; and how to file a claim.
Most Alaska health insurance policies pay for all or a portion of these expenses:
Hospitalization
Surgery
Doctor's visits
Medical tests
Maternity care
Pediatric care
Your monthly premiums should contribute to these types of medical care.
Medical services commonly excluded from health insurance plans in your state are:
Cosmetic surgery
Eyeglasses
Hearing aids
Preventive care such as mammograms and immunizations
Dental care
Experimental treatments
All health insurance policies are NOT created equal. So conduct your research, read your policy, and make sure you understand everything it contains.
Homeowners insurance is a comprehensive policy designed to financially provide for the repair or replacement of your home. It also covers your personal property, along with medical payments for others and legal responsibility if someone is injured on your property.
While many folks groan about having to condense their budget to accommodate yet another payment, declining this type of coverage leaves your home, your family and your wallet at great risk for loss.
While there are multiple forms of home insurance in Alaska, the most commonly purchased types are known as HO-1, HO-2 and HO-3:
HO-1 is a basic policy, which provides protection against perils such as lightning, fire, smoke, vandalism and theft.
HO-2 is an expanded form of HO-1, and provides protection against the same perils named in HO-1 policies, in addition to perils such as falling objects, building collapse, and water damage from home appliances.
HO-3 is the most commonly purchased form of insurance because it protects your home against "all" perils, excluding flooding and earthquakes.
Keep in mind that there are other forms of home insurance available, such as those for condos and mobile homes, and be sure to ask your agent about them if you think they might be necessary.
After you die, a life insurance policy will provide cash to your beneficiaries, ensuring that your family will have the means to protect their standard of living. Therefore, if you support anyone financially, you will want to consider a life insurance purchase.
If you're single, you will want to consider life insurance if you plan on getting married or having children in the future. Or, you may want to purchase it so that your final expenses and lingering debt are not passed on to loved ones after you die.
Since the proceeds of your life insurance will be used to pay for your family's necessities, it is important to identify what those necessities are and will be, and how much they will cost.
To gauge your family's expenses, you will want to ask yourself:
How much will my final expenses cost?
Will my estate be taxed?
Do I have debts my family will have to repay?
Will my children need money to continue their education?
Can my spouse retire comfortably on his or her benefits?
How will inflation affect the cost of living?
Once you have figured a rough estimate of your family's financial needs, you will want to consider any existing resources (or assets) that you already have. These could include things like savings, Social Security, pension, stocks or real estate—anything that your loved ones could use toward their financial needs.
After you have determined the value of your existing resources, simply subtract that value from the expenses needed, and you will have an estimate of how much life insurance you should buy.
Term life insurance protects you for a period of one or more years, which means that a death benefit is only paid out if you die during the specified period. However, because the death benefit is subject to the insured dying during that period, premiums for term life insurance are generally much cheaper.
A term life policy also allows a higher death benefit for less money, which is particularly attractive to young adults or individuals with limited income.
Permanent life insurance protects you for the duration of your life and often has a guaranteed death benefit.
Permanent life insurance carries higher premiums, some of which are invested by your insurer to build cash value.
The cash value earned can:
Provide you with a lump sum of cash if you cancel the policy
Pay the premiums for your policy if you are unable to pay them
Be borrowed against in the form of a loan if you should need it
It is important that you discuss your needs with a state-licensed life insurance agent to ensure that you've selected the right product to meet your family's needs.