Shopping for a new car can sometimes be overwhelming. Wading through make and model options is difficult enough…but then there are financing and insurance decisions to make, too.
Auto insurance companies know you have much to consider when looking for a new car. You can get a reliable range of projected insurance costs by consulting with several different agents about the car makes and models you are interested in.
This will also help you determine whether or not that sports car you're considering is a good deal—or whether you should settle on the economical gas-saver instead.
Know Your Style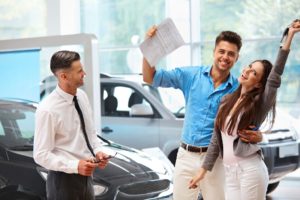 Before you head out to the car lot, you need to make some basic decisions. Consider the same issues insurers consider when setting insurance rates, like:
How you use the car
How many passengers you typically carry
How often you drive
Where you drive
What features are important to you
Style and brand preferences
Examine each of these details carefully, as each helps determine the premium you pay for your auto insurance. Think car use, not necessarily car model. This will help narrow your choices significantly.
Armed with this information, evaluate your needs and preferences and determine your own current style. When the time comes, insurers can help you decide which cars fitting that style afford you the lowest auto insurance costs.
Get Educated
Once you have a clear picture of what you want and need, investigate your choices. Visit your local library or bookstore and read up on each vehicle. Familiarize yourself with current prices and features.
Then make a list of all the features and options important to you—everything from head and leg room to transmission type, engine and trunk size, and safety features included. Auto insurance companies give discounts for some of these items, so they can be special budget-busters.
Examine All Costs
Finally, write down all models containing the features you want and can afford. Consider all costs involved in buying each of these cars, including sticker price, gas, maintenance, financing rates, taxes and insurance.
Talk to a financial advisor or get loan pre-approval from a bank. Then set your price range—an amount you can comfortably afford to spend each month—and don't even consider buying a car that doesn't fall within this range.
If you can't afford everything you want, prioritize the features on your list and go with the vehicle that's priced right and has the most features you want.
Comparison Shop
This applies to both your car and your insurance. Now that you've narrowed your search considerably, compare sticker prices from your research and get insurance prices from local auto insurance companies.
Collect brochures, ask the salesperson in your local dealership for information, take test drives to make your selection even easier, and contact at least one insurance agent to find out what you can expect your yearly auto insurance premiums to cost.
Negotiate a Deal
At this point, the more information you have, the stronger your bargaining position.
Ask the dealer about cash incentives, rebates and other discounts. Then call insurance companies and inquire about their discounts. Let them know you are shopping around so you'll get their best prices up front.
Finally, let both the dealer and the insurer know your bottom line—and stick to it!
Purchase with Confidence
Buying a new car can be enjoyable. But don't throw caution to the wind by doing it unwisely, or without all the facts. Think about what's important to you, do your research, talk insurance, check your budget and shop around for the best deal you can get. Then purchase that new car with confidence—and enjoy!