by Penny M. Hagerman
Ever wonder how insurers determine auto insurance quotes? Are they just random numbers pulled from thin air—or are there real facts behind the numbers that help set premiums?
Though insurers concern themselves with anything that increases the risk of claims, the likelihood of auto theft plays a large role in final premium rates—as does what you drive.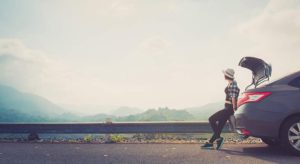 Just the Facts
Covered under the comprehensive portion of an auto policy, theft coverage pays to repair or replace stolen automobiles and the often expensive parts they contain.
These days, an automobile is stolen in the U.S. approximately every 29 seconds. Though this statistic actually represents a downward trend that has taken place during the past few years, the dollar amount per claim per automobile is increasing exponentially.
As Americans seek out the most luxurious autos with all the latest and greatest gadgets, fixing or replacing those autos—and paying the increasing cost of bodywork involved—becomes more and more difficult. Insurers must pass along that increased risk and elevated cost to customers through higher auto rate quotes.
It's only by taking wise action to choose the right automobiles, make them less available to thieves, and aid in the auto recovery process that we can cut the risk of theft and lower auto insurance quotes.
Theft Factors

To determine the cost of auto insurance and target possible rate quotes, most insurers consider the following factors of utmost concern.
Car price and value. The cheaper the automobile insured, the lower the auto insurance.
Car model and type. Sedans cost less to insure than sports cars; basic models cost less than luxurious ones.
Geographic location. Areas with lower crime rates experience lower rates.
Safety measures taken. Locking doors, removing valuables from autos and parking in well-lit areas all reduce the likelihood of theft.
Safety components installed. Items like air bags, traction control systems and anti-lock brakes make for safer automobiles—and owner discounts.
Tracking systems used. Global positioning systems (GPS) like OnStar and LoJack use a hidden auto transmitter that allows police to track down stolen automobiles. This increases the likelihood of recovery and restrains premiums.
Choosing the Right Automobile
Many of today's most popular cars have interchangeable parts, making them a common target for thieves looking to make money.
With a few simple changes, criminals can find and swap parts from one model to another, preying on others' misfortune and driving up insurance rates in the process.
To help avoid the risk of theft and keep quotes low, consider this list of the most frequently stolen automobiles, circa 2007 (the last year for which results became available). Those who drive these vehicles should expect more expensive insurance policies, due to the increased risk of theft.
Top 10 Most Frequently Stolen Vehicles, 2007*
| | |
| --- | --- |
| Rank | Year, Make & Model |
| 1. | 1995 Honda Civic |
| 2. | 1991 Honda Accord |
| 3. | 1989 Toyota Camry |
| 4. | 1997 Ford F-150 Series Pickup |
| 5. | 1994 Chevrolet C-K 1500 Pickup |
| 6. | 1994 Acura Integra |
| 7. | 2004 Dodge Ram Pickup |
| 8. | 1994 Nissan Sentra |
| 9. | 1988 Toyota Pickup |
| 10. | 2007 Toyota Corolla |
| | *Source: National Insurance Crime Bureau (NICB) |
Kissing High Premiums Goodbye
By thinking ahead, making positive changes to reduce the chance of theft, and minimizing the risk to insurers, auto insurance prices can be kept at bay—and premiums kept affordable.