Lately, consumers befuddled by surging gas prices and high auto insurance rates may be wondering if the oil and insurance industries are in cahoots.
This economic "double whammy" makes it harder for people to afford to drive, but with limited public transportation in the U.S., turning in the car keys isn't exactly an option.
So what are consumers to do? Enduring that 30-mile commute via bicycle is hardly a smart alternative. That's why InsureMe is here to present you with the secret weapon to reducing your auto insurance costs—and spending those savings at the pump.
Feeling the Squeeze
According to a 2007 Gallup poll, about half of respondents said they made significant adjustments in their spending due to the cost of gas. As early as 2005 The National Retail Foundation had observed a similar trend. Consumers are taking fewer vacations, diningout less and even buying fewer groceries.
These findings aren't surprising considering that the average two-driver household now spends about $3,000 a year on gasoline—$1,000 more than last year's average. This is especially tough for middle-income families, already feeling the pinch from increased costs for health care, education and housing.
Tack on the cost of auto insurance and we're talking about some serious spending: the cost of auto insurance for two drivers with two cars can exceed $4,500 a year. And, if one driver has had an accident, there can be an $8,000 difference between insurance companies.
Finding the right auto insurance can shave dollars off your premiums—savings can you can pocket and use at the pump.
Successfully Executing the Secret Weapon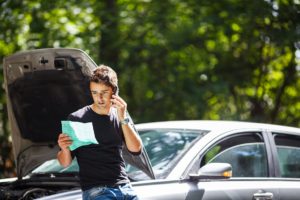 It's important that you understand the fundamentals of the secret weapon to reap its benefits.
Employ these tips to reduce the cost of your auto insurance—and spend the savings filling up your gas tank:
Shop around. Comparing auto insurance rates with a number of insurers is the best way to scope out a deal. Use InsureMe's free service to get paired with multiple agents and brokers in your area.
Ask about discounts. Taking advantage of every discount for which you are eligible may substantially lower your premium.
Ask about discounts for:
Good driving records
"Good student" drivers
Drivers over 50
Cars with safety and theft-deterrent systems
Low annual mileage
Insuring multiple cars
Remember to ask your agent about these and other possible discounts, as they may not be offered up front.
Choose a higher deductible. Raising your deductible may substantially lower your auto insurance rates. While a common deductible is $500, raising it to $1,000 or more could save you hundreds on your premium.
Keep in mind that the deductible is the amount you pay out-of-pocket before the insurance company pays for any damages. Be sure you select a deductible that won't break the bank if your car needs repair after an accident.
Maintain clean credit. Bills, bills, bills. We hate paying them, but not doing so on time may cause you to pay more for auto insurance.
Why? Believe it or not, insurers have found a correlation between credit history and your probability of having an accident. While some states limit the use of your credit score in determining your rate (such as excluding late payments on medical bills), credit scoring is becoming increasingly popular with insurers.
It's best to get a free copy of your credit report from the credit bureau to correct any errors—and pay those bills early, just for good measure.
Review your policy. Reevaluate your policy annually, and check to see that you're still getting the best possible rate.
Allegiance aside, if you're not getting the best rate, consider finding a different insurer.
You may also want to consider dropping collision and comprehensive coverage on older cars. Doing so will help you avoid paying more for coverage than what the car is worth, leaving you with the change.
Following these tips should, without a doubt, reduce your premiums, giving you more money to compensate for swelling gas costs.
Avoiding the $40 Fill-Up
With no relief in sight, the $40 fill-up is quickly becoming old hat. And while we can't control gas prices, we can offer some additional tips to ensure fewer $40 fill-ups:
Avoid idling. After 30 seconds of idling, it's actually cheaper to turn off the car and restart again when you're ready to drive.
Lay off the lead foot. A comprehensive study by Edumund's proved that accelerating and braking more slowly can increase your miles per gallon by over 35 percent in an SUV and over 27 percent in a two-door coupe.
Lighten the load. If, for some reason, you've been carrying around a spare slab of concrete in your trunk, take it out to see a drastic improvement in your fuel economy.
Pick a lane. Studies have shown that changing lanes does not significantly reduce your drive time. So pick a lane, set the cruise (if possible) and enjoy the ride. Besides, no one likes Mr. Lane Changer anyway.
The Bottom Line
For most consumers, surging gas prices and increasing insurance rates are a financial nightmare. But by using these tips, you can take control to get the most out of your auto insurance, and potentially put the savings into the gas tank.