John Egan
The Windy City is now also the Buggy City.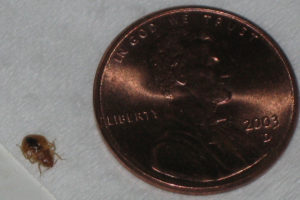 Pest control company Orkin named Chicago the top U.S. city for bed bugs in 2012, up from the No. 2 position in 2011. In all, Orkin ranked 50 major cities based on the number of bed bug treatments it performed throughout 2012.
Here is Orkin's top 10:
1. Chicago.
2. Detroit.
3. Los Angeles.
4. Denver.
5. Cincinnati.
6. Columbus, Ohio.
7. Washington, D.C.
8. Cleveland-Akron-Canton.
9. Dallas-Fort Worth.
10. New York.
"This list shows that bed bugs continue to be a problem throughout the U.S.," Orkin's entomologist and technical services director, Ron Harrison, says in a news release. "Based on the diversity of cities on the list, we all need to be very cautious when we travel — whether it is business or pleasure, or to visit family, friends or vacation. We need to be vigilant wherever we are and take the proper precautions."
By the way, if you are the victim of a bed bug infestation, homeowner's and renter's insurance policies won't pay to make the little critters go away. Getting rid of bed bugs and other vermin is considered a maintenance issue and typically isn't covered by standard homeowner's and renter's insurance.
Among the common places to find blood-sucking bed bugs are bedrooms, kitchens, bathrooms, hospitals, movie theaters, airplanes and gyms. However, keep in mind that bed bugs can't transmit diseases, according to Orkin.
"Bed bugs are insidious survivors who travel well – they hide in cracks in wood and in the weave of cloth," Dr. Joseph Leija, who performs the Gottlieb Allergy Count for Loyola University Health System in Chicago, says in a news release. "They are vampires – they are dormant during the day but come out at night and feed on human blood."
Bed bugs can multiply quickly, so early detection is critical to heading off a big infestation, Orkin says.
"Education and prevention are key," Harrison says. "Inspect your bedroom regularly, and be cautious when traveling. Adult bed bugs resemble apple seeds in size and color, while newly hatched babies can be about the size of a pinhead and pale in color. Check mattress seams, sheets and furniture, behind baseboards, electrical outlet plates and picture frames."
Leija offers these tips for battling bed bugs:
• If you buy used clothing, keep it in the plastic bag before you wash it right away in hot water. "Use the dryer at high heat to make sure all parasites are killed," Leija says.
• Paint or seal any newly acquired used furniture. "Bedbugs are so tiny they have been known to hide in screwholes," Leija says.
• When you travel, check the mattress before getting into bed. "If you see tiny brown specks, move yourself and your clothing and your luggage out immediately," Leija says. "And tell the hotel manager or your hosts what you have discovered to prevent further infiltration."
• If you're bitten by a bedbug, wash the area carefully with soap and water, and then dry thoroughly. Apply anti-itch cream, such as calamine lotion, to prevent irritation and limit scratching. If the bite area becomes warm to the touch, swells or hurts, visit a doctor, Leija says.