Reyna Gobel
For parents planning a child's birthday party, a bounce house is a very popular entertainment choice.
However, parents should consider the safety consequences that come along when renting one. Injuries can occur if rules aren't followed, says Larry Cossio, owner of WeInsureInflatables.com, a company that insures companies that provide inflatables like bounce houses and inflatable slides.
Common injuries that occur on bounce houses include cuts, scrapes and sprained ankles. In 2011, three inflatable rides rose off of the ground and tumbled at a crowded children's event in Oceanside, New York. Twelve people were hospitalized.
Insurance policies for rental companies cover incidents caused by improper setup, Cossio says. If the renter hires a company that provides a ride attendant, usage and setup is covered in addition to anything else that happens, he says.
Also, home insurance policies that don't specifically exclude bounce houses will cover injury claims.
Here are four things parents should do to ensure their kids are safe when playing in a bounce house.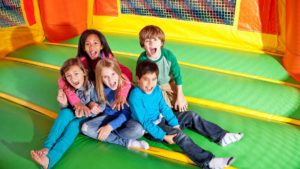 1. Have an adult attendant.
Having an adult monitor what's going on in the bounce house is vital for safety. An attendant should prohibit kids from wearing glasses, performing flips or bouncing off each other in the bounce house. An attendant also will watch weather conditions and check that the bounce house is securely tied down. Company-provided attendants aren't licensed but do receive training from the company on proper bounce house safety. A parent or other responsible adult can act as an attendant as well.
However, Andrea Tevini, owner of Jubilee Jumps – a party equipment rental company in Northern California, says clients typically don't ask for her to provide an attendant. "Very few people want a stranger standing around at a private birthday party," she says. Instead, she explains safety precautions to the adults in charge, and she requires the renter to sign off on  15 liability items. In this case, the homeowner would generally have to post claims on their home insurance policy. Never consider a bounce house an inflatable babysitter, or injuries can occur, says Alex Pino, owner of Premier Xtras, an entertainment rental company based in South Florida.
2. Avoid human seesaws.
Having a 3 year-old child bouncing in the same bounce house as a 10 year-old child is equivalent to putting the same kids on a seesaw, Cossio says. One won't move and the other will quickly learn how to fly.  He says every bounce house has a weight restriction, but dramatically different sized riders can cause injury such as sprained ankles when children fly through the air and land improperly.
Even if kids are roughly the same size, always check the age restrictions on the bounce house. For instance, some specifically say they're for ages 3 to 9 or ages 9 to 14. "Parents are always a no-no (in the bounce house)," Cossio says. However, Tevini says some bounce houses can handle adults roughly the same size as each other — but only two at a time. No bounce house that she knows of allows riders that individually weigh over 200 pounds. However, each bounce house has a different total weight capacity based on how many individuals it's supposed to hold.
3. Keep inflatables tied down.
When Tevini watched the video of the inflatable going airborne in Oceanside, she wanted to cringe. In the video, she couldn't tell if the inflatable had been tied down properly but she didn't see any tethers or rope tie downs.
Tevini always ensures stakes, which secure tethers, are driven into the ground a specific length based on the size of the bounce house. For an inflatable slide the size of the one in Oceanside, New York, she would have used multiple tethers.
Also, once winds get over 15 miles per hour, most responsible bounce house providers will say you shouldn't set up the inflatable because it's unsafe, Tevini says. She offers alternatives when the wind increases, such as indoor units that are shorter in height and can fit in a garage for younger kids.
4. Spend the extra money to get an insured company.
According to Tevini, there's generally a $10 to $20 increase in price to rent a bounce house from an insured party equipment rental company instead of an uninsured one. For example, she says, a company that carries insurance will likely be responsible in other ways too, such as ensuring delivery of a rental inflatable even if the company's truck breaks down.