Marcus Pickett
In October 2011, U.S. Health and Human Services Secretary Kathleen Sebelius kicked off Breast Cancer Awareness Month with some bad news — by the end of the year, roughly 230,000 U.S. women will have been diagnosed with breast cancer, and nearly 40,000 will have died of the disease. About 2,000 men also will be diagnosed this year, and about 450 will die, according to the American Cancer Society.
But there is hope. Thanks to advancements in health care as well as advocacy campaigns that encourage early detection, breast cancer death rates are stabilizing and even decreasing in some groups, according to the American Cancer Society.
This life-saving treatment comes at a cost, however. Treatment for breast cancer can cost tens of thousands of dollars. Coupled with considerable non-medical expenses, a breast cancer diagnosis often leads households to exhaust personal savings and even declare bankruptcy. The right insurance coverage can help you afford the treatments recommended by your doctor and prevent you from fighting bankruptcy after you win your fight with cancer.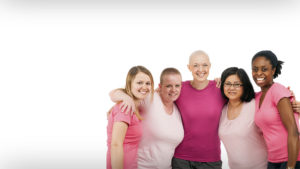 Traditional health insurance
The most effective coverage might be a comprehensive health insurance policy. If you already have health insurance, it should cover medically necessary treatments and any needed drugs.
However, cancer patients may encounter hurdles and coverage gaps. A high deductible could require you to pay thousands of dollars in out-of-pocket costs before coverage kicks in. Moreover, many struggling businesses have reduced their employees' benefits, meaning cancer patients who get insurance through their employers could face higher co-pays and co-insurance amounts.
Those who lose their jobs after diagnosis face bigger problems, according to the U.S. Department of Health and Human Services (HHS). COBRA coverage is expensive and lasts only 18 months. And if patients allow their COBRA coverage to lapse, they can later be denied new coverage because of their preexisting condition.
Getting health insurance after a cancer diagnosis can be expensive or even impossible. Insurers can deny coverage altogether, charge expensive premiums or grant coverage on the condition that cancer treatments will be excluded, according to HHS.
Specialty cancer insurance
Recognizing the limitations of traditional health plans, some insurance companies offer separate, supplemental health insurance policies that provide coverage for cancer.
There are two main types of cancer insurance policies: medical coverage and lump-sum plans. Policies that offer medical coverage function much like major medical policies and typically cover a set percentage of cancer-related medical bills. Lump-sum policies, meanwhile, pay out more like life insurance. If a policyholder is diagnosed with cancer, a predetermined benefit is paid out. These policies often are designed to cover transportation, daily living expenses, lost income, lengthy hospital stays and non-standard or out-of-network medical treatments, according to Aflac, which offers lump-sum cancer insurance.
The National Association of Insurance Commissioners (NAIC) recommends asking yourself these questions to determine whether a supplemental policy is right for you:
Is my current coverage adequate to cover the cost of cancer treatments? According to the NAIC, "doubling up" on benefits by getting traditional health insurance plus cancer insurance might be counter-productive. Some policies have "coordination of benefits" clauses, meaning they won't pay if another policy already has paid.
How much will treatment cost if I do get cancer? All policies have limitations. Some may have caps on certain procedures or pay only for hospital care, according to the NAIC. Others may exclude coverage for cancer-related illnesses and ailments related to cancer treatments. Waiting periods and exclusions for pre-existing cancer also are common. Therefore, it's important to calculate how much you could end up paying out of pocket and how much money a cancer insurance policy would save you.
How likely am I to contract the disease? One in eight U.S. women will contract invasive breast cancer sometime in their lives, according to Breastcancer.org. But that means nearly 90 percent will not. So, chances are good that you'll never use a cancer insurance policy. A family history of breast cancer, however, could increase your risk significantly.
Insurance coverage for prevention
Early detection can vastly reduce the amount of money you — and your insurer — will have to spend on your treatment. Health insurance generally covers mammograms, as do Medicare and Medicaid for women over age 40, according to the National Cancer Institute. And the federal health care reform law has designated mammograms as a preventive procedure, meaning they're free (no co-pay and no co-insurance payment) for those with insurance. Those without insurance can get free or low-cost mammograms through the National Breast and Cervical Cancer Early Detection Program.