It's free for Americans to do, but will cost Congress $8 million to advertise.
Wearing a seat belt while riding in motor vehicles is the center of a new campaign from the Department of Transportation. Secretary Ray LaHood recently announced the Click It or Ticket mobilization, which penalizes consumers who are caught not buckling up.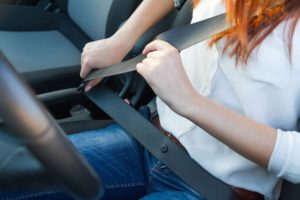 Click It or Ticket is an annual event nationwide.
There are currently 45 million Americans who do not take this step when riding in a car, despite figures from the National Highway Traffic Safety Administration speaking to the risks these people take. Nearly half of the 14,000 unbuckled passenger vehicle occupants who are killed annually in auto accidents could be saved if they had buckled up.
That's the bad news. The good news is that seat belt usage has increased from 60 to 84 percent since the first Click It or Ticket campaign in 1993. The remaining 16 percent represent the work of LaHood and others before him
The Department of Transportation is not alone in these efforts. More than 10,000 police agencies will be involved. Congress is coordinating with the NHTSA to unveil a series of Spanish- and English-language advertisements raising awareness for the campaign.
"Regular seat belt use is the single best way to protect yourself and your family in motor vehicle crashes," David Strickland, administrator for the NHTSA, said.  "Wearing your seat belt costs you nothing. But the cost for not wearing one certainly will."
Men ages 18 to 34 are the primary target of the campaign, which all states and territories are slated to participate in. Statistics from the NHTSA show that these individuals were significantly more likely than their seat belt-wearing counterparts to die in an auto accident.
But they don't have to die or be severely injured in such an incident. Nor should Congress have to carve out millions of dollars every year to point this out.
Buckling up should be an intuitive part of entering a motor vehicle, not only for the occupants' safety but also for the money they can save. Beyond the ticket that they'll be charged in the DOT's current campaign, motorists' auto insurance premiums can also be affected by seat belt oversight.
Insurance rates increase when the losses incurred in an accident also go up. Using a seat belt, therefore, is both a safe and economical decision for motorists.