Gina Roberts-Grey
It's not uncommon for a car insurance company to mandate an exclusion, a provision in an insurance policy that denies or restricts car insurance coverage.
"Insurance companies can exclude specific drivers from coverage if the driver does not meet their underwriting guidelines," says Jeremy Schaedler, owner of Schaedler Insurance in California.
But some savvy drivers are using exclusions to their advantage. These policyholders ask to exclude certain household members – "named drivers" such as teen or elderly motorists – to drive car insurance rates down.
This means a policyholder's son who gets busted DUI could be excluded from coverage. So if the policyholder lets that kid (even when he's sober) drive the car, the household's insurance coverage won't be in effect.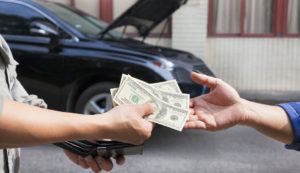 Why ask for an exclusion?
Typically, car insurance companies require all licensed drivers living in a household to be put on a car insurance policy, says Billy Van Jura, an insurance broker in New York. So a driver who racks up a few tickets or gets into several crashes can jack up the household's car insurance costs by 10 percent to 30 percent.
"Some policyholders may exclude a child away at college to save on premiums during the period the student is at school, as long as the student doesn't have any access to a vehicle in the household," Schaedler says.
But if the teen is excluded from the household coverage, he can't even drive any insured car while home for the weekend or on holiday or summer breaks. In fact, an excluded driver isn't covered in an emergency, such as rushing someone to a hospital by car.
Exclusions are based on individual car insurance policies, not by household, so a household with several cars would have to exclude the driver from each vehicle's insurance policy.
How much will you save?
Schaedler says the cost benefit of an exclusion varies by the location, age, gender and driving record of the person being excluded, as well as by the value of the car. Your car insurance agent or company can give you an estimate of the savings.
What if you have exclusion remorse?
An exclusion usually can be reversed if the policyholder asks the insurer, Schaedler says. Some insurance companies require written notification of a request to start or reverse an exclusion, so check with your car insurance agent or company about how these situations are handled.
"It's usually fairly easy to reverse an exclusion," Schaedler says.
The exception is if an exclusion involves a high-risk driver who has been excluded by the insurer, not the policyholder. Those are much harder to negotiate and may not be reversible. Those drivers would have to seek insurance with a different company, Van Jura says. An alternative for the high-risk driver would be to have him buy his own policy rather than being added to the household's coverage.
"Teens, elderly parents or irresponsible older children still at home should explore options to have their own car insurance policy separate from that of the rest of the household to keep costs manageable," Van Jura says.