Teen drivers have the highest death rate of any age group. More than 5,000 teens ages 16 to 20 die annually in car accidents, according to the American Academy of Pediatrics (AAP).
While getting their driver's license is essentially a rite of passage into adulthood, it can be enough to make any parent frantic with worry…and make getting affordable car insurance for teens difficult.
But according to the Insurance Information Institute (III) and the Insurance Institute for Highway Safety (IIHS), there is something fretful parents can do to help protect their teens: choose a safe vehicle.
Along those lines, the III and the IIHS recommend the following tips to ensure new drivers stay safe and get the car insurance they need before hitting the road: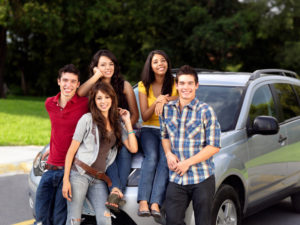 Avoid vehicles that encourage reckless driving. Teen drivers not only lack experience, but also the maturity needed to opt out of dangerous activities such as speeding and other reckless driving behaviors.
Avoid unstable vehicles. This includes SUVs and pickup trucks, which are less stable than cars because of their higher centers of gravity and the increased likelihood of rollover.
Pick a vehicle offering good crash protection. A knowledgeable agent can offer advice, or you can check out vehicle crash test ratings online.
Avoid small vehicles. Choose a mid- or full-size car offering more adequate crash protection for your teen. Once again, it is wise to check safety ratings online to compare one vehicle to another.
Avoid older vehicles. Today's cars are much better designed than those of even six to 10 years ago. Choose a newer, mid-sized car with airbags over an older, larger car with no airbag protection.
Driving is a privilege teenagers should respect, so lay down some ground rules before allowing them into the driver's seat—no matter what kind of car they drive. Then require them to keep a clean driving record, earn good grades in school, involve themselves in the community, and wear their seat belts to earn insurance discounts, stay safe and get the lowest possible rate on car insurance.
Don't put your teens' lives at risk by letting them drive an unsafe car. Do your research, involve your kids in car comparisons, and put them behind the wheel of the safest vehicle you can afford. Then require them to approach driving with a mature attitude—and contact InsureMe for the best car insurance available locally.