When you pack your family into the car to head to the beach, the park, or the grocery store, the most important thing you can do for your children is make sure they are properly secured in their seat belts.
Safe adult drivers begin as safe child passengers. Teach your kids safe habits at an early age so that they carry them with them for life!
The National Highway Safety Administration (NHSA) has created some important guidelines every parent should follow when securing his or her children in the car. As a general rule, children 12 and under should always sit in the backseat where they are away from active air bags. Air bags are constructed for the safety of adults, and the force of their deployment may seriously injure a young child.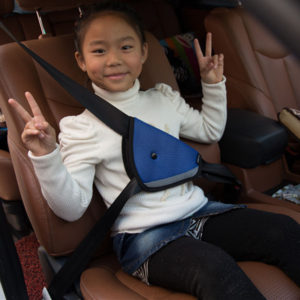 Infants who are newborn through one year old and who weigh up to 20-22 pounds have special guidelines for safety. Adults should make sure to use a rear-facing infant seat or a rear-facing convertible seat when securing a child in the backseat. If you have a car that seats only two, the air bag should be deactivated before placing the child in the passenger seat. The harness straps should be snug and taut and should be placed in the lower slots at or below shoulder level. The top of the harness clip should be at armpit level. And the child passenger restraint should be installed at no greater than a 45-degree angle.
The switch to a forward-facing car seat can be made when toddlers are over one year of age and 20-40 pounds. Again, harness straps should be secured snugly in the appropriate reinforced slots at or above shoulder level, and harness clips should be fastened at armpit level.
Once your child has exceeded 40 pounds, is four to eight years old and is up to 4′ 9″ tall, he or she may use a booster seat. Secure the booster seat much the same way you secured the child seat. Using a lap and shoulder belt, make sure to place the shoulder strap over your child's shoulder and across his or her chest. The shoulder strap should never go across your child's neck, face or arm. Place the lap belt low and snug on the hips—never over the stomach. If the shoulder or lap belt is in the wrong place during an accident, your child could sustain serious abdominal injury.
At eight years of age and 4′ 9″ or taller, your child should graduate to an adult restraint system. As with the booster seat, use a lap and shoulder belt to secure him or her, taking care not to let the belts cross the stomach, neck or arms. Do not allow your child to place the shoulder belt behind his or her back or under their arms, as this defeats the purpose of being restrained and does not protect him or her in case of an accident.
For general information on the proper use of child restraint devices, always consult the instructions that come with your child safety seat, as well as the information provided by your vehicle's owner's manual.