Troy Anderson
When Alzheimer's, illness or an accident leaves a family member unable to care for himself, long-term care insurance can be a godsend. But if you've got to use this coverage, how do you or a loved one file a claim?
Long-term care insurance covers long-lasting illnesses and disabilities not covered by regular insurance or Medicare. The insurance pays for a variety of services for people who are unable to perform certain daily tasks because of accidents, strokes, heart attacks, cancer and other illnesses. These services include home care, assisted living and nursing home care.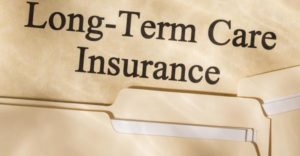 The claims process
Filing a long-term care insurance claim is pretty simple, according to Jesse Slome, executive director of the American Association of Long-Term Care Insurance, a trade group. With the policy in hand, the policyholder, or his or her designee, should call the insurance company and provide information about the situation, Slome says.
"They are going to ask you specifically, 'Has a doctor prescribed the condition? What is the diagnosis?' That's all you need," Slome says.
During the call, your insurance company's representative will explain what type of care is covered. Some policies may include a deductible period (a period of time when the policy deductible must be paid out of pocket) that must be met before claims can be paid.
"To keep insurance costs more affordable, most people today add a deductible period to their coverage — most often 90 days," Slome says. "Policy benefits don't kick in until this deductible period is met."
Once the claim is approved, the insurance company will start reimbursing the policyholder for long-term care expenses. Often, the policyholder submits monthly expense forms to the insurance company.
"Sometimes you get a monthly allotment and sometimes it's a reimbursement for specific expenses," Slome says. "This will vary from insurance policy to insurance policy."
About one in four long-term care insurance policyholders file a first claim between ages 70 and 79, while 66 percent file it after the policyholder reaches age 80, according to the American Association for Long-Term Care Insurance.
The need for long-term care insurance
With three in four Americans expected to need some form of long-term care in the years ahead, experts say long-term care insurance should be part of everyone's plan.
"Long-term care insurance can be a solution for many people. You are basically transferring the risk off your savings and putting it into an insurance policy," says Jonas Roeser, president and founder of the 3in4 Association, a nonprofit long-term insurance advocacy group. 3in4 is sponsoring the "3in4 Need More" awareness campaign to educate people about the growing importance of long-term care insurance.
"I personally think that everyone should have long-term care insurance, because we as a whole society are getting older and living longer," says Marion Somers, a long-term care insurance expert and author of "Elder Care Made Easier: Doctor Marion's 10 Steps to Help You Care for an Aging Loved One."
"Three in four people are going to need some kind of long-term care help, assistance and support. Most people aren't aware this is going to happen to three out of four people," Somers says.
Buying coverage
Todd Grove, national director of Worksite Solutions, a Washington-based brokerage that focus solely on long-term planning, says people should consider obtaining coverage in their 40s and 50s.
 "That's when coverage is affordable, and most importantly, available," Grove says. "Underwriting has gotten very, very strict."
In 2011, the average first-year premium for a long-term care insurance policy was $2,279, up 6 percent from 2010, according to the nonprofit Insurance Information Institute.  But employer-sponsored plans can start as low as $10 to $20 a month, Grove says.
At a time when the average annual cost of a nursing home is $86,000 and an assisted living center is $43,000, Somers says long-term care insurance makes financial sense.
"In the U.S., the average American's savings is $40,000," Somers says. "The vast majority of the middle class are going to get hit on the side of the head by long-term care expenses. They think Medicare is going to pick up the slack if they fall and break their hip and need rehab, but that's not the reality. But long-term care insurance will cover those expenses."
In 2011, the country's long-term care insurance companies paid $6.6 billion in benefits to more than 200,000 people, according to the American Association for Long-Term Care Insurance. The largest single long-term care insurance claim paid totaled $3 million. Alzheimer's disease was the leading cause for claims in a nursing home or assisted living center, the association says.