by Penny M. Hagerman
Clean and fresh and with all the right amenities, condominiums provide residents fine living in tight spaces. But because much space is shared, it's often unclear who is responsible for maintenance—and who should pick up the tab when accidents occur: the condo association or the resident?
Though the association's general insurance policy covers the building's structure; common areas like pools, shared walkways and basements; and the property and grounds, it may or may not cover items like interior fixtures, drywall, appliances and carpeting.

For condo owners with the right insurance policy, there's no need to worry when the tub overflows and ruins a neighbor's ceiling, hail damages the roof, or a friend trips and falls while visiting. Once an insurance claim has been filed, the appropriate insurance company picks up the tab, providing money to repair damages, replace what's ruined and, when necessary, pay medical bills.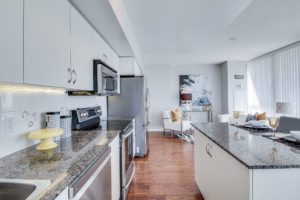 This provides financial stability for the condominium owner and helps ensure:
Possessions like furniture, clothing, electronics, art and appliances can be repaired or replaced
Liability coverage in case someone is injured or suffers a loss while visiting
Coverage for additions or changes made to the original condo structure
Clean-up takes place following disaster
Though many condo owners are clueless when it comes to insurance, a licensed home insurance agent can be their best friend when comparing insurance policies. Trained specifically in this type of protection, they know the ins and outs of insuring shared spaces, and are often the best resource for evaluating specific insurance needs.
Home ownership can be a gratifying and affordable experience, especially for those who prefer condo living. To get the best rates—whether you live uptown or down—take advantage of these discounts when it's time to insure:
Home and car—Insure both together and save up to 20 percent
Protective device—Add smoke detectors, fire alarms or sprinkler systems to the condo and save up to 15 percent more
Claims free—Save up to 20 percent if you've had no claims in the past three years
Age of construction—Get up to 30 percent off, based on your condo's age
Age of insured—Get up to 15 percent off if you're 60 or older
Personal status—Saves spouses or widows an additional five percent off usual condo premiums