If you're a Connecticut resident looking for insurance, you're in the right place. We've compiled all the info you need to help you find home, auto, life, health or long term care insurance right here on this page.
We recommend you read it over, contact the Connecticut Insurance Department at (860) 297-3800 with any questions, and let us help you find the coverage you need today.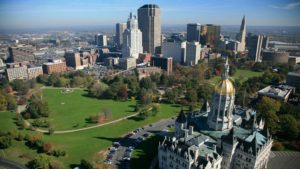 Auto insurance protects you from being held responsible for others' losses in case of an accident. Many people don't realize how costly going without auto insurance can be. Involvement in an accident can put your home, savings, future wages and other assets at risk in order to cover the cost of related medical bills, car repairs and lawsuits.
This state has established laws requiring certain coverages for your protection. All Connecticut drivers must maintain at least these coverages:
Bodily Injury Liability: Covers injury to others due to your negligence. Minimum requirement includes $20,000 per person and $40,000 per accident.
Property Damage Liability: Covers damage to others' property when you are negligent. Minimum mandated is $10,000 per accident.
Uninsured/Underinsured Motorist: Covers bodily injury to you or others riding in your car when you're involved in an accident with a motorist who is uninsured or has insufficient coverage. $20,000 per person and $40,000 per accident are required.
The state insurance department recommends you increase your Connecticut auto insurance coverage above the required minimum amounts. This will ensure adequate protection for others with whom you might be involved in an accident, and will protect you legally as well.
Other coverage types such as collision, comprehensive and full glass are also recommended to protect your own car in the event of damage.
Keep your car insurance premium low by:
Maintaining a good driving record
Setting your deductible as high as possible
Buying multiple policies with the same insurance company
Inquiring about discounts
Maintaining a good credit history
Choosing your new car carefully
Applicable discounts
Some auto insurance companies also offer consumers discounts based on driving habits, past payment history and other factors lowering their claims risk. Some discounts that may be available include those for multiple policies, defensive drivers, low mileage, safety or anti-theft devices, car pools and mature drivers.
Remarkable revelations include:
Health care costs are growing twice as fast as inflation and are outpacing salary hikes.
In 2004, one in five working-age adults were without health insurance.
42.1 million Americans of all ages were without health insurance in 2004.
If you are insured under a group policy (such as one provided by your employer), you cannot be denied or limited coverage because of your health status. This practice is called nondiscrimination.
If you become ill, your insurer cannot cancel your policy. This practice is called guaranteed renewability. This coverage cannot be canceled unless you neglect to pay your premiums, move out of your coverage area or act unethically toward your insurance company.
The guaranteed issue says that if you are purchasing a group plan for 50 employees or fewer, you cannot be turned down because of your age or health status.
If you leave your job, you may be able to remain on your old group plan for a limited time through state-continued coverage, or COBRA. Your COBRA coverage can last up to 18 months but cannot be renewed.
The Connecticut Department of Insurance encourages the following when shopping for health insurance:
Shop carefully. Different companies offer different prices.
Make friends with your policy. Read through your policy to make sure it protects you from major medical costs. You also want to make sure the health insurance plan you purchase is right for you. You don't want any unpleasant surprises later.
Get a preview.
Make sure there is a "free look" clause in your health insurance policy. You should get at least 10 days to review your policy and determine whether or not you want to keep it. If not, you can reject the policy and your agent will refund your money.
Your home insurance policy protects you from financial strain by paying for any bodily injury or property damage situation in which you are held liable. Your insurer will act on your behalf in these situations, negotiating settlements, defending you in court or paying judgments against you.
If you finance your home, your lender will require you to insure it for at least the amount of your home loan. However, most insurance policies require coverage of at least 80 percent of the home's replacement value.
There are a variety of homeowners policies from which to choose. However, each type may be purchased in a package which includes coverage for four items: property damage, additional living expenses, personal liability and medical payments.
Property damage covers the cost to repair or replace your home and personal possessions in the event of a loss.
Additional living expenses are those you incur when your home is damaged and uninhabitable and you must live elsewhere. Covered costs include lodging, meals and storage.
Personal liability coverage protects you against claims or lawsuits resulting from bodily injury or property damage for which you are responsible.
Finally, medical payment coverage reimburses for medical expenses incurred by persons injured on your property.
You may choose from the following types of home insurance policies in your state:
Broad Form (HO-2): Covers only specifically listed perils.
Special Form (HO-3): The most popular policy. Offers property and liability coverage for your home and other structures on your property. Protects against all risks except those specifically excluded.
Tenants Form (HO-4): Provides coverage for your personal property and any parts of the apartment you own in a rental situation.
Condominium Form (HO-6): Covers a condominium owner's personal property, as well as any portion of the building he or she owns.
Market Value Form (HO-8): Insures the structure based on market value, rather than actual cash value.
No one ever plans to leave their family without protection—but that is exactly what happens every day all over the United States. Connecticut life insurance can help your spouse pay off your home mortgage, provide an education for your children and supply monthly income in your absence. It can also assist your family in more complicated matters, such as estate planning, cash accumulation, transfer of wealth and estate tax payments
You should consider buying life insurance if:
You're married and your spouse depends on your income
You have an aging parent or disabled relative who depends on your income
You have children
Your retirement pension, savings or other assets won't provide your loved ones adequate support when you die
You have a large estate and expect to owe estate taxes
You own a business
Life insurance can be purchased in Connecticut on an "individual" or a "group" basis. Most group plans are provided by employers, and are usually term life insurance that is renewed yearly. If you are unemployed, self-employed or not able to purchase life insurance through your employer, you should consider an individual life insurance plan.
You can purchase two types of life insurance in Connecticut:
Term life—usually purchased for a specific time period (usually one, five, 10 or 20 years). Benefits paid only if you die while the policy is in effect. Cheaper than whole life and more practical if you need a large amount of coverage for a particular period of time. Rates increase as you get older. Coverage ends when you stop paying premiums or at the end of the term specified. May also be "convertible" to a whole life policy.
Whole life (sometimes called "permanent life," "ordinary life" or "straight life") — provides lifetime coverage and accumulates cash value over time, which you may borrow against. May also pay you dividends. Premium rates remain stable as long as the policy is in effect. Rates depend on your age at time of purchase, and do not increase as you age.