Crawford Frazer
Fire. Theft. Lightning. Smoke. Any of these can quickly and thoroughly destroy all of the possessions inside your rental home. Renter's insurance can reimburse you for thousands of dollars in damages — and, as the Insurance Information Institute notes, your costs for a policy can be less than $200 a year.
Yet, according to a 2006 Insurance Research Council poll, fewer than half of the renters in the United States carry renter's insurance. And, according to a 2009 study by the Insurance Research Council, 14 percent of households did not renew their renter's insurance in response to the economic downturn.
If you're in their company (and looking for ways to cut your renter's insurance premiums), many insurance companies offer discounts if you install certain devices in your rented home.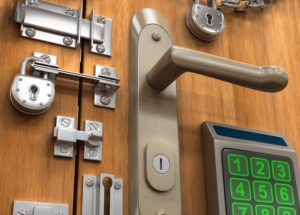 Burglar alarms
Insurance companies like State Farm, GEICO and Nationwide all provide policy discounts for rental homes with burglar alarms, which can deter burglars. Not only does an alarm make them less likely to target your home, but it could keep them away from your neighbors' homes as well, according to a 2009 Rutgers University School of Criminal Justice study.
Consider the cost of installing an alarm, and then ask your insurer about how much you can save; you may find that you'll make up the costs of the alarm by saving on your premiums.
Deadbolt locks
A deadbolt also can ward off would-be thieves — and keep out even the most determined burglars. State Farm offers tips on the safest deadbolts so that you can save more on your renter's insurance:
Install a deadbolt lock with American National Standards Institute (ANSI) Grade 1 classification.
Make sure you can control who has copies of keys to your lock.
Consider a high-security strike plate (which prevents a burglar from kicking in your door). Most locks do come with strike plates, but many are simply decorative and offer no real protection.
Look for saw-resistant bolts and anti-drill features.
Buy a deadbolt with a "throw" of at least 1 inch. The throw of a deadbolt is the length that it extends from the edge of the door.
Smoke alarms
Smoke alarms alert you to a fire, often sooner than the smell of smoke would. That means an increased chance that it will be extinguished sooner — and a lower tally for damages.
Although most homes have at least one smoke alarm, there often are serious consequences for homes where the alarm fails. That's why the National Fire Protection Association offers these smoke alarm tips:
Check the battery. When a smoke alarm doesn't operate, it's usually because of a missing, disconnected, dead or discharged battery.
To avoid battery problems, consider hardwired smoke alarms, which perform better.
If your home has more than one floor, interconnected hardwired smoke alarms make your home safer. Because all the detectors in the house are interconnected, all will sound if one of them detects smoke.
Your insurance company wants to know that your rental home is as safe as possible, because preventing damage and theft means fewer claims. Be sure to ask about other potential discounts for things like fire extinguishers and sprinkler systems. These could make your renter's insurance policy more affordable, while decreasing the odds of damage to your rented home and belongings.