Linda Melone
You and your neighbors take vacations together and regularly eat dinner together. Your kids and your neighbors' kids frequently play together. All that togetherness can crumble, though, if a home insurance dispute arises.
Here's the scoop on some of the most common home insurance tug-of-wars that can leave you and your neighbors feuding like the Hatfields and the McCoys.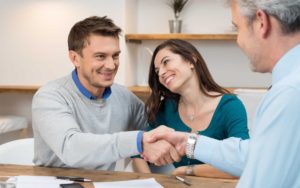 1. You share an outdoor fence or wall with your neighbor and it comes crashing down.
If it's a shared wall or fence, the cost of the damage probably would be split between the two home insurance policies, says Brian Kane, owner of Donnelly & Sproul Inc., an insurance agency in Glen Rock, N.J. "If it's determined the wall belongs to one side, that person would be responsible," he says.
If you're part of a homeowners association, the association's bylaws would define who owns the dividing wall, Kane says.
Your homeowner's policy also must cover you for the peril that damaged the wall, says Tim Dodge, a spokesman for the Independent Insurance Agents & Brokers of New York, a trade group. "Most homeowner's policies do not cover damage due to a flood or earthquake. These require a separate policy."
2. Firefighters damage your home while battling a blaze next door.
If firefighters damage your home while putting out a blaze at your neighbor's house, your homeowner's policy covers you, Kane says. "You're covered when a public authority damages your property while responding to an emergency," he says.
If your insurance company decides your neighbor's carelessness caused the fire, however, your company may try to collect from your neighbor's insurance, Dodge says. "For example, if they were barbecuing on a windy day and sparks flew onto their house and caused the fire, they may be deemed at fault," he says.
If your neighbor was not at fault or you could not prove negligence, your home insurance covers you for any damage caused by emergency efforts.
3. You let your neighbor bring his dog to your home and it bites you.
Legal responsibility rests with the dog owner if his dog bites someone, Kane says. "However, if the dog owner is an invited guest of yours, and the dog bites another guest, it's both the responsibility of you and the dog owner," he says. In that instance, the bitten guest could sue both you and the dog owner.
The personal liability portion of your home insurance policy covers dog bite injuries, Kane says, as well as legal expenses if you're sued by the victim. However, some home insurance policies exclude certain "dangerous" dog breeds such as pit bulls. Some insurers may deny coverage if you withheld information about owning a "dangerous" dog.
Dog bites accounted for $413 million in home insurance claims in 2010, representing more than one-third of all home insurance claims, according to the Insurance Information Institute. Nearly 900,000 of the more than 4.7 million people bitten by dogs each year require medical care.
4. Your neighbor's tree roots damage your sidewalk … or the tree lands on your roof.
If your neighbor's giant oak tree sends out roots that lift up your sidewalk — creating a pedestrian hazard — you're likely not covered for the damage, Kane says. "It's considered a property maintenance issue," he says.
On other hand, if the tree fell and damaged your sidewalk, your insurance typically will pay for the damage, Kane says. "Most insurance companies won't pay anything unless it damages a covered structure such as a fence, shed or part of the house," he says.
You're typically not covered, though, for the cost of cleanup if the tree falls into your yard but doesn't damage anything, Kane says. One possible exception: If your neighbor knew the tree was rotting but failed to have it cut down, and it fell on your house, the neighbor's home insurance policy should pay, Dodge says.
5. A water leak from the condo above damages your condo.
Standard homeowner's insurance policies cover damage from burst pipes, wind-driven rain and ice dams (when water builds up behind a blockage of ice), but may not cover sewer backups. The latter may require an add-on to your insurance policy for roughly $50 a year.
Many people expect a condo association to pay for that type of damage, Kane says, but are disappointed to find out that they're on their own. "The association seldom covers anything other than the framed structure," he says. "The interior finished surfaces must be covered by the owner."
Nationally, water damage ranked fourth among all home insurance claims between 2005 and 2009, according to the Insurance Information Institute. The average claim exceeded $6,300.
6. A city pipe bursts, flooding the street and damaging your home.
If a city-owned pipe bursts on your property, the coverage depends on the details of your home insurance policy, according to Kane.
Some insurers exclude coverage for underground pipes. City-owned pipes that run into your house usually are considered your responsibility, Kane says. Coverage may vary if the pipes are further from your house.
Your homeowner's insurance covers burst pipes and the subsequent flooding, Worters says. Flood insurance, available through the National Flood Insurance Program, covers natural disasters.