Jill Overmyer
If you've ever visited the emergency room, you know that the waits can be long. And your wait could get longer. Instead of visiting the family doctor, more and more people are resorting to the ER. Two recent studies reveal why.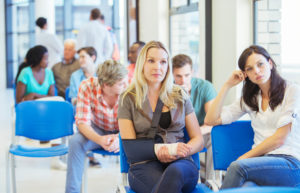 Who's visiting the ER?
In the past, a cut finger over the weekend and an earache in the middle of the night were the common reasons for a visit to the ER. Today, many of those visiting emergency rooms are Medicaid recipients unable to find physicians to treat them, according to an April 2011 American College of Emergency Physicians poll. Ninety-seven percent of the physicians surveyed said they had treated Medicaid patients for non-emergencies because these patients couldn't find a primary care doctor who would accept Medicaid's rate of reimbursement.
A recent Johns Hopkins study had similar findings. The researchers found that Medicare and Medicaid patients, as well as those without insurance, are 60 percent more likely to visit an ER than those with private health insurance coverage. Patients living in poor neighborhoods were 70 percent more likely to visit an ER.
Another group that frequents the ER is patients who recently have undergone surgery or received care at a local hospital, according to the Johns Hopkins study. These patients are more likely to visit an ER for minor after-care concerns like prescription refills than to seek followup care from a physician. In an effort to reduce ER visits, some hospitals are making followup appointments for patients as part of the check-out process — and even making the first followup appointment free, according to the Johns Hopkins study.
Finally, family physicians also are using emergency rooms more frequently. ER physicians reported to the American College of Emergency Physicians that it's not unusual to discover that the patient being treated was counseled to visit the ER for care. Access to imaging equipment and laboratories make the ER an excellent resource for overwhelmed family physicians.
Growing crowds are a growing problem
Based on these recent studies, ERs are filling up with those who shouldn't be there. Yet the guarantee that an ER will provide treatment (even to those who can't afford it), the shortage of primary care doctors, and the fact that doctors' offices often close too early for those working nontraditional hours all are pushing patients into emergency rooms.
Physicians working in overburdened emergency rooms are concerned that non-life-threatening visits compromise their ability to treat the seriously ill patients in need of emergency care. The American College of Emergency Physicians poll revealed that many physicians worry that health care reform will make things worse. The reform legislation will make more patients eligible for Medicaid. Because many physicians balk at Medicaid's rate of reimbursement, these patients may not be able to find doctors willing to treat them — and may turn to emergency rooms.