Mary Lou Jay
Think it's no big deal to skip a visit to the dentist? Going without treatment for some dental problems can affect not just your mouth but your overall health, according to the federal Centers for Disease Control and Prevention. Studies have shown links between gum disease and diabetes, heart disease, stroke and premature, low-weight births.
Dental insurance can help you get the dental treatment you need. A 2007 survey by the National Association of Dental Plans showed that people without dental insurance are two-and-a-half times less likely to visit a dentist than those who do have coverage.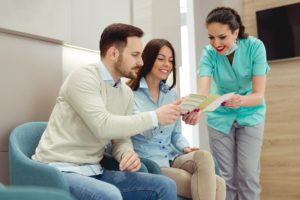 Many get dental insurance through their employers, but individual and family policies are available on the private market. There are several types of dental insurance plans available, including:
Traditional dental insurance (also known as an indemnity or fee-for-service plan). With this type of plan, you'll have the widest choice of dentists, but you may end up paying more out of pocket, according to insurance provider Delta Dental. You'll be responsible for an annual deductible plus co-insurance payments, which are a percentage of the cost of treatment. You may pay a lower rate of coinsurance for preventive treatment than you will for restorative treatment (like crowns or bridges). There's usually an annual limit on how much the plan will pay for treatment.
Dental preferred provider organization (PPO). With a dental PPO, the insurer has a network of dentists who agree to accept a certain discounted fee for each type of service, according to the American Dental Association. If you go to a dentist in the network, your co-insurance cost will be less than if you go to an out-of-network dentist. Dental PPOs usually have yearly policy limits and may have deductibles you have to meet as well.
Dental HMO or prepaid plan. If you want to keep your out-of-pocket expenses to a minimum, a dental HMO could be a good choice. You'll be required to get your dental care from a primary care dentist who you choose from the HMO's list of providers, according to Delta Dental. All your care will be managed by that dental provider, including referrals to specialists. You'll usually need pre-authorization for visits to specialists. In a dental HMO, your co-pay costs for preventive care are usually quite low. For other treatments, you'll pay a certain fixed amount.
Most dental policies keep costs for preventive treatment lower because patients who receive regular preventive care are less likely to need more expensive restorative treatment later. Some plans do not cover pre-existing conditions, like missing teeth, according to the American Dental Association. They also do not usually cover expenses like orthodontics (braces) and cosmetic procedures like teeth whitening or veneers.
Just as with health insurance, the cost of dental insurance will vary according to where you live, the type of plan you choose and its deductibles, co-insurance costs and annual policy limits.