Emmet Pierce
When women leave a marriage, they often leave behind their health insurance benefits.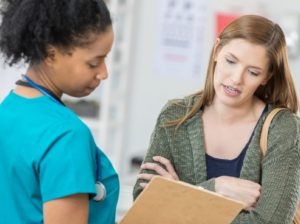 An estimated 115,000 American women lose access to private health insurance each year following divorce, and roughly 65,000 of these women lose all health coverage, according to recent study from the University of Michigan. The study found that women's rates of insurance coverage remain depressed for over two years following termination of a marriage.
Nancy Fagan, a divorce mediator in San Diego, isn't surprised by the results. In her practice, she has found that many women would rather stay in a bad marriage than risk losing health care.
"They are very frightened," Fagan says. "They are afraid they will not earn enough to get insurance. It is a very big deal."
The university study, which was lead by Bridget Lavelle, a doctorial candidate in public policy and sociology, analyzed data from 1996 through 2007 for women 26 to 64. The survey used marital status and health insurance information from 1,442 women in the U.S. Census Bureau's Survey of Income and Program Participation.
Lavelle and sociologist Pamela Smock, her collaborator, found that many women have trouble maintaining coverage because they no longer qualify as dependents under their husbands' policies. If they have jobs, they may work for employers that don't offer access to health insurance benefits. Some earn too much to qualify for Medicaid but not enough to buy private insurance.
Husbands and health benefits
It's well-known that divorce leads to greater poverty for women, says Deborah Carr, who chairs the Rutgers University Department of Sociology. However, the University of Michigan study is the first study to demonstrate that women who cut marital ties frequently lose access to private health insurance, she says.
"Women tend to work for smaller employers," Carr says. "If you work for a small or part-time employer, you are not as likely to get benefits."
One solution, she says, is for women to make sure they understand the importance of  health insurance benefits when they seek jobs.
"When you are hired, do you really go carefully through the benefits package?" Carr says. "Often, we do nothing about health insurance until we need it or until it disappears. Health insurance may not be something women are thinking about when the marriage ends."
The University of Michigan study shows that women have not achieved economic equality with men, says Judy Waxman, vice president for health and reproductive rights at the National Women's Law Center.
"More women get their health care coverage through their husband's policy than the other way around," she says. "That is why they are more vulnerable to losing their coverage in a divorce."
Getting help from federal health care reform
The federal Patient Protection and Affordable Care Act, which takes full effect in 2014, will help alleviate the health insurance problem for women, Waxman says. The federal law seeks to extend insurance to more than 30 million people by expanding Medicaid and providing subsidies to help low- and middle-income people who buy private policies. It also blocks insurers from denying coverage because of pre-existing medical conditions.
"That is going to make a huge difference," Waxman says. "Let's say women have a job but they do not have insurance with it. Now, they will be able to get help getting the coverage."
Instead of relying on the federal health care reform law, Tennessee divorce consultant Cathy Meyer says, women contemplating divorce should focus on finding jobs that offer health care benefits.
"Immediately start building a new a career for yourself," she recommends. "Employment-based insurance is the least expensive route you can take. Women who receive alimony have a tendency to live off the alimony, saying, 'I will worry about a job later.' You can't do that. The best thing a woman can do is get a job and bank that alimony – become financially viable."
If divorced women with low incomes must buy private health insurance, they should consider policies with high deductibles and lower premiums, Meyer says. The goal is to provide protection against catastrophic illnesses. Too many people worry about co-payments for office visits and prescriptions when they should concentrate on being insured against major expenses.
The big deductible
"Go for the big deductible," Meyer says. "What you want to do is protect yourself in case you have a catastrophic illness or accident. Then you still have the coverage you need. If you have a $5,000 deductible and get in a car accident and have $65,000 in medical bills, that deductible will look very small."
If you don't have access to health insurance, check out the opportunities in your community for free or discounted medical care, Waxman says.