By Jill Overmyer
What is a home warranty?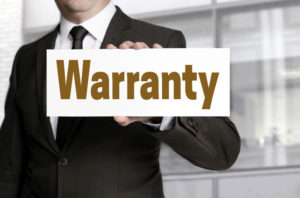 A home warranty is a service contract that homeowners may buy to cover breakdowns of home appliances. The warranty company retains approved contractors and covers the repair or replacement costs associated with specified systems in the home for a period of time.
Along with the cost of the contract, homeowners pay a deductible or a fee for each repair. For example, those with contracts from home warranty company American Home Shield pay a "Trade Service Call Fee" for each contractor who visits a home to diagnose a problem or repair it, as well as additional costs for replacing covered items.
What is covered in a home warranty?
A home warranty can include some of the most common systems and appliances used in your home, including:
Heating and air conditioning units.
Hot water heaters.
Electrical systems.
Plumbing systems.
Built-in appliances, such as ovens, garbage disposals and refrigerators.
Coverage in home warranty contracts varies with each state and contract, but each contract will have exclusions. Some of the most common home warranty exclusions, according to Texas Home Warranty Review, include:
Pre-existing problems. Unless you buy additional coverage to include pre-existing conditions, your warranty covers only those problems that occur from the date you purchased the contract.
Problems caused by installation. For example, if you installed your new dishwasher yourself and it leaks or doesn't run properly, your home warranty provider may deem it an installation problem and refuse coverage.
Neglect or poor maintenance. Most companies won't cover damage resulting from failure to properly maintain your system and appliances.
What are the pros and cons of a home warranty?
Advantages of a home warranty include:
It could save you money. Should something go wrong, one service visit could more than pay for the entire cost of your home warranty contract.
It could assist with the sale of your home. If you're having trouble selling your home, knowing that the home is under warranty may be the push that some prospective buyers need to make an offer. Also, if the air conditioning or heating system breaks down while your house is on the market, a home warranty can cover the expensive repairs.
It reduces hassle. The home warranty company contacts and schedules the service providers, saving you the trouble of finding them yourself.
Some disadvantages to consider before purchasing a home warranty include:
Extra fees. Some home warranty contracts charge fees in addition to the deductible, including service fees, missed appointment fees and certain parts.
Exclusions and limits. Normal wear and tear, improper previous repairs, pre-existing problems and more are excluded from coverage. Also, some companies may limit the number of claims you can file.
Do I need a home warranty?
If your appliances and systems are no longer under the manufacturer's warranty or you simply want the added peace of mind, a home warranty could save you money in the long run — and cover the maintenance that your home insurance does not cover. Just be sure to read the fine print and understand all exclusions, fees and coverage details before signing on the dotted line.