Leah Shepherd
If you have health insurance through your employer, consider yourself lucky – the number of Americans with employer-provided health insurance keeps dropping, continuing a decline that began in 2008.
According to Gallup, 55.9 percent of Americans age 26 to 64 said they had employer-based coverage in 2012, down from 56.7 percent in 2011. Part of this stems from the high rate of unemployment – 8.2 percent in June, according to the U.S. Bureau of Labor Statistics. Another part: Just 16 percent of employers offered health insurance to their part-time workers.
Costly medical bills are an added burden for America's uninsured. Illness and medical bills caused 62 percent of all bankruptcies in the United States in 2007, according to a study published in the American Journal of Medicine. This high number is unsurprising, as the U.S. Census listed 49.9 million Americans (about 16 percent) as uninsured.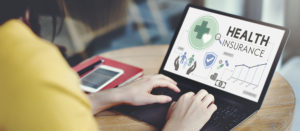 Options for the uninsured
Starting in 2014, consumers will be able to buy individual insurance policies on state-run health care exchanges. But until then, here are six options if you don't have employer-based health insurance:
If you're age 26 or under, enroll in your parent's health plan.
Find out whether your state has a high-risk pool for people with pre-existing conditions. A high-risk pool is a health plan for people who have medical conditions or health risks, but don't have coverage through an employer. Thirty-five states have high-risk health insurance pools. Eligibility rules vary by state; some states have waiting periods up to 12 months.
Enroll in or stay on COBRA coverage. Under the federal COBRA law, employers must let you continue your previous coverage for 18 months if you quit your job, get laid off, get fired or shift from full-time hours to part-time hours. However, COBRA coverage is costly, as the patient pays the entire premium with no subsidy from the employer.
Get quotes for purchasing an individual insurance plan. Individual coverage tends to be much more expensive than the group coverage offered by employers. The premium can be cheaper if the plan has a high deductible (the amount the patient must pay out of pocket before coverage begins).Insurers in some states can refuse to sell individual coverage to you if you have a pre-existing condition. This will change in 2014, when a provision in the Affordable Care Act will prohibit all insurers from denying coverage based on pre-existing conditions.
Find out whether you're eligible for Medicaid, Medicare or military veterans benefits.
Some university alumni groups and professional associations offer group health plans to their members. If you belong to one, find out whether health insurance is one of the available perks.
With all the insurance information out there, it can be extremely confusing for consumers – but a number of advocacy organizations provide resources to help uninsured people learn about their options for obtaining coverage. These include Families USA, the Patient Advocate Foundation and the Foundation for Health Coverage Education.
For uninsured people, the consequences can be severe. Uninsured people are less likely to get necessary medical treatment and preventive care, and more likely to face enormous medical bills, be diagnosed with a disease at an advanced stage and die prematurely, according to a report from Families USA.
Insurance through employment
About 60 percent of employers provided health benefits to their workers in 2011, compared with 63 percent in 2008, according to a survey from the Kaiser Family Foundation, a nonprofit foundation that researches health care issues.
"There's been no evidence that employers are dropping (health benefits)," says Paul Fronstin, director of the health research and education program at the Employee Benefit Research Institute.
However, in recent years, an increasing number of employers have decided to save money by relying more on part-time workers rather than full-time workers, Fronstin says. Only 16 percent of employers with health benefits offered them to part-time workers in 2011, down from 25 percent in 2010, according to the Kaiser Family Foundation.
Adding to the problem, only 59 percent of small employers (with less than 200 workers) offered health insurance last year, compared with 99 percent of large employers (with more than 200 workers), according to the Kaiser Family Foundation. Cost is the primary reason that companies cite for not providing health benefits.