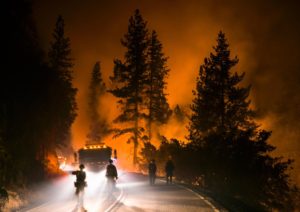 Sept. 11, 2001 World Trade Center (terrorist attacks)

Loss: $39,200,000,000
With images of burning towers seared into our collective memory, the 9/11 attacks need no introduction. Although not typically thought of as a 'fire,' the 9/11 attacks resulted in the most costly blaze in our country's history. What's more, 9/11 was also one of the most expensive catastrophic events of any kind: only hurricanes Katrina and Andrew were more financially devastating.
April 18, 1906 San Francisco Earthquake and Fire

Loss: $8,000,000,000
For San Franciscans in 1906, the 7.8 magnitude earthquake was just the beginning of their problems. The subsequent fires, which started when underground gas mains ruptured, inflicted even more damage on the city, reducing thousands of structures—indeed, hundreds of entire city blocks—to rubble.
According to the U.S. Geological Survey, "The California earthquake of April 18, 1906 ranks as one of the most significant earthquakes of all time." The fires that came after, however, were far more destructive.
Oct. 8-9 1871 Great Chicago Fire


Loss: $2,900,000,000
While the origins of the Great Chicago Fire were a mystery at the time, the devastation was plain to see, and the event remains a important part of the city's identity. For two days in October, fanned by warm winds, flames ripped through the city, torching four square miles of the city. Nearly 300 people died in the blaze.
Oct. 20, 1991 Oakland, CA., fire storm

Loss: $2,300,000,000
A small brush fire turned into one of the worst urban disasters in U.S. history. Aided by warm winds and low humidity, the Oakland Hills Fire Storm burned three square miles of wealthy neighborhoods. Dark smoke and uneven terrain made it very difficult for firefighters to extinguish the flame. The fire caused over $2billion in damages.
Oct. 20, 2007 San Diego County, CA., The Southern California Wildland Fires

Loss: $1,800,000,000
Santa Ana winds, known for their warmth and low humidity, fanned a series of fires that collectively burned half a million acres and destroyed 1,500 homes, prompting Gov. Arnold Schwarzenegger to declare a state of emergency.
A mixture of causes, both human and natural, intentional and accidental, started the 2007 Southern California Fires.
Nov. 9, 1872 Great Boston Fire

Loss: $1,300,000,000
Oct. 23 1989 Pasadena, Texas, polyefin plant

Loss: $1,300,000,000
Oct. 25, 2003 Julian, CA, Wildire (Cedar)

Loss:$1,200,000,000
May 4, 2000 Los Alamos NM, wildland fire

Loss: $1,200,000,000
Feb. 7, 1904 Baltimore, MD, Baltimore Conflagration

Loss: $1,200,000,000
Loss figures are from the National Fire Protection Association