If you live in an area prone to flooding, the Federal Emergency Management Agency (FEMA) requires you have flood insurance. However, even if you reside in a relatively dry climate, you may consider flood insurance to cover damages that may result from storms, melting snow, inadequate or overloaded drains, or hurricanes.
Standard homeowners policies do not protect your home or possessions from water damage. Approximately 25 percent of flood insurance claims come from residents of areas that have low to moderate risk of flooding.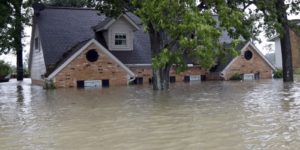 But you cannot add a flood insurance floater to your policy; you must purchase flood insurance through an insurer associated with the National Flood Insurance Program (NFIP). If your home insurance company cannot provide flood insurance, call the NFIP Telephone Response Center at (888) CALL-FLOOD, extension 445.
You can purchase flood insurance almost any time if you live in a community that participates with NFIP—unless a flood is imminent. And there is a 30-day waiting period before flood insurance kicks in.
Flood insurance does not cover damage that occurs due to high winds or hail. You can opt to purchase add-ons to your regular homeowners' policy to cover those perils.
Flood insurance also does not cover flood-related basement damage in all circumstances. Although it is limited, flood insurance is the best way to protect your basement in the event of a flood. Items like furnaces, hot water heaters, stairways and appliances (such as clothes washers and dryers, and freezers) are usually covered. However, possessions, floors, walls and ceilings are not.
There are several endorsements, or add-ons, that you can purchase to improve the coverage of your home insurance plan. However, most policies do not cover any damages that result from a flood. So your best bet is to purchase additional flood coverage, if you live in an area where you think you're at risk.