Asked by Carlos from California
Note: Flood damage is NOT covered by homeowners insurance
Carlos: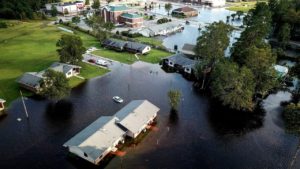 Flood insurance is available through the National Flood Insurance Program (NFIP) as well as a handful of private insurers. Policies can either cover flood-related damage to your house or possessions or both.
According to III.org, the web site of the Insurance Information Institute, the NFIP "provides coverage for up to $250,000 for the structure of the home and $100,000 for personal possessions. Private flood insurance is available for those who need additional insurance protection, known as 'excess coverage.'" Both NFIP polices and private flood insurance policies are purchased through insurance agents.
The NFIP web site, FloodSmart.gov, has a handy tool that helps you estimate your home's "risk profile" and find adequate coverage. Even if your risk is low, the NFIP recommends getting coverage, as 25 percent of all claims come from houses considered 'low risk.'
The NFIP issues three types of flood insurance policies:
Moderate-to-Low Risk
Standard
High Risk
Click here to see rates. They start as low as $119 a year for low-risk locations and go up to $30,312 a year for high-risk coastal locations. Prices are set and do not vary from insurer to insurer.
Please note: InsureMe Answers is not intended to be a substitute for advice from a licensed professional. For specific questions about a policy or claim, please contact your insurance agent or company.