If you're a Florida resident looking for insurance, you're in the right place. We've compiled all the info you need to help you find home, auto, life, health or long term care insurance right here on this page.
We recommend you read it over, contact the Florida Department of Financial Services at 800-342-2762 with any questions, and let us help you find the coverage you need today.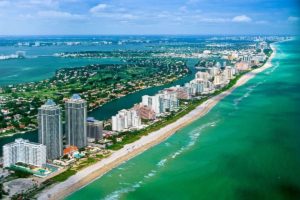 Knowing and understanding Florida's state-mandated auto insurance requirements is vital when shopping for the right coverage.
The following coverage is mandatory in your state:
At least $10,000 in Personal Injury Protection (PIP). This insurance covers you in an accident regardless of who is at fault, and pays for portions of costs such as medical expenses, lost wages, and resulting child autoe expenses. PIP also pays a $5,000 death benefit.
$10,000 in Property Damage Liability (PDL). This portion pays for damage you or a family member cause others while driving your auto. "Property" includes fences, buildings, autos and telephone poles.
Additional types of coverage such as Bodily Injury Liability, Collision, Comprehensive or Uninsured/Underinsured Motorist coverage are also available, but are completely optional. Check with your auto loan lender or your insurance agent to confirm other types of coverage aren't required in your situation.
The law allows health insurance agents to create various, non-standardized policies, so it's important to thoroughly read any policy you consider purchasing. Although policies differ, certain benefits are mandated, such as childhood immunizations, mammograms and diabetes treatment.
The type of health insurance plan you choose will affect your out-of-pocket cost, what your plan covers, who your providers are and your premium rates.
The four main types of Florida health insurance plans are:
Indemnity (Fee for Service): Generally the most costly, indemnity plans offer the widest selection of health care providers. However, with this type of plan, you are usually expected to pay the full amount immediately and send the bill to the insurer in order to receive a refund for the amount covered by your specific policy.
Preferred Provider Organization (PPO): The main concept behind a PPO plan is the network. If you purchase this type of policy, you may choose any health care provider from within your network, which is determined by your policy, or any non-network health care provider. You are usually required to make a co-payment or pay co-insurance. Staying in-network saves you a bundle with the PPO plan!
Health Maintenance Organization (HMO): Like the PPO plan, the HMO plan requires you to make a co-payment to an in-network physician. However, the HMO plan will not pay for services you receive outside the network. In order to obtain specialty care, you must go through your primary-care physician and attain a referral to a specialist.
Point of Service (POS or Open Access HMO): This type of plan is similar to an HMO. However, when you need care, you can opt to go out of network. But the plan usually will reimburse you only 50 to 80 percent, and you also may be required to pay co-insurance and a deductible.
The stark necessity of insuring your home in Florida has come to light recently with the occurrence of storms, hurricanes and flooding. Many Florida residents have discovered too late just how important having sufficient coverage really is.
Some Floridians have experienced huge homeowners insurance rate increases; others have had insufficient coverage when they needed it most or have been dropped completely by their insurance companies due to these natural disasters.

The three most frequently offered homeowners insurance packages in your state include:
Broad Form (HO-2)-Covers perils such as windstorm or hail, smoke, vandalism, fire or lightening, explosion, falling objects, volcanic eruptions and many more.
Special Form (HO-3)-The most popular type. Covers your home for everything not specifically excluded, in addition to such perils as above.
Modified Coverage Form (HO-8)-Insures your property against only fire or lightening, explosion, riot or civil commotion, vehicles, aircraft, theft, smoke, windstorm or hail, vandalism or malicious mischief, and volcanic eruption.
Florida law also requires all home insurance policies to cover sinkhole damage. Contact your Florida home insurance agent to verify this coverage on your policy.
Life insurance prevents financial loss to dependents in the event of an individual's premature death. A life insurance policy pays a specified amount (or death benefit) to the named beneficiary when the insured dies.
Floridians purchase life insurance for many reasons. Some of these reasons include: providing an income in place of lost earning potential, funding retirement plans, paying off a loan in the event of premature death, or paying for college educations. Regardless of the reason for purchase, all Floridians need Florida life insurance of one type or another.
Two types of life insurance can be purchased in Florida. Term life is the simplest form, and provides financial protection for a temporary period of time. This type of policy may or may not be renewable. Term life policies are normally written for individuals who need large amounts of coverage for specific time periods. Initial premiums are usually much less than for permanent life insurance, but they may increase each year (or remain level) for a specified period.
Term life insurance provides good coverage for young Floridian families raising children or paying off mortgages. These policies are, however, short term solutions and do not build equity; but monthly costs are low, so individuals with limited resources are able to purchase life insurance protection in Florida. Most term life policies do not accrue cash value.
Permanent life insurance provides Floridians with long-term financial protection. This includes both a death benefit and, in some cases, cash savings. Permanent insurance equity builds over time, but premiums are higher than those of term insurance. Rates usually remain the same after the policy is purchased.
Those who are attempting to meet long-range financial goals do well with this type of insurance.