Linda Melone
In some parts of the country, methane levels high enough to set water on fire are raising serious concerns for homeowners about the dangers and insurance consequences of hydraulic fracturing, commonly known as "fracking."
In fracking, natural gas drillers force sand, dozens of chemicals (some toxic) and water into shale to fracture and release the gas. This process occurs about 5,000 to 8,000 feet below the surface. Hot spots for this procedure include Louisiana, Pennsylvania and Texas.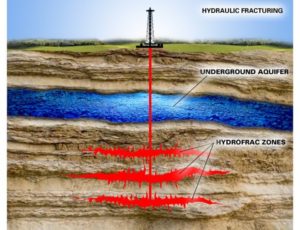 Insurance debate
So, should you be fretting if you live near a fracking site? Unfortunately, the answer is yes.
Fracking can result in toxic chemicals contaminating the water and air around drilling sites. However, home insurance likely won't cover fracking-related damage to your house, such as a fire, according to Kevin Foley, owner of PFT&K Insurance Brokers in New Jersey.
Why wouldn't that damage be covered? Home insurance policies generally contain strict exclusions regarding pollution damage, Foley says, and that includes fracking.
For now, special insurance to cover fracking damage isn't sold.
However, "as risks associated with fracking become known to consumers, the development of insurance products for a new market may become attractive to insurers," says Rosanne Placey, director of the Pennsylvania Insurance Department. Loretta Worters, a spokeswoman for the nonprofit Insurance Information Institute, says such policies would have to include coverage for personal injury and property damage.
This land is your land
One thing in your favor when it comes to fracking: Drilling typically can't occur on your property without your approval.
"In general, if you are the property owner, no one can force you to do anything with your land without your permission, although there are exceptions," says Matthew Ence, an attorney at Utah law firm Snow Jensen & Reece.
One of those exceptions: Some property owners may not own the mineral rights under their property. Instead, those rights may be controlled by the state, according to Ence, and the state may be able to lease those rights a driller as long as it doesn't disturb the ground.
"In addition, if your neighbors all agree to allow the drilling, you may have no say in it," Ence says. Laws allowing such activity are in effect in states like New York and Texas.
Earthquake concerns
Aside from wringing their hands about environmental damage from fracking, homeowners should worry about an increased risk for earthquakes in regions where fracking is going on, according to Foley. That's why some experts advise people in fracking areas to look into earthquake insurance, which must be purchased separately from standard home insurance.
Another problem may arise if fracking damage isn't discovered until long after the extraction takes place and the driller is no longer around, Ence says. Laws in some states do offer some protection to property owners in these situations, "especially if they are forced to participate," he says.
Kevin Sunday, a spokesman for the Pennsylvania Department of Environmental Protection, says whoever contaminates soil or water in the Keystone State is required to clean it up. That includes fracking drillers. However, drillers could fight this if they can produce pre-drilling water samples showing that the ground already was contaminated.
Because much of the fracking activity takes place on leased land, potential problems — such as contamination — should be addressed in lease documents, according to Sunday.