Crawford Frazer
Auto insurance companies can increase a parent's premium by as much as 50 percent to 100 percent when a teen driver is added to the policy, according to the Insurance Information Institute. If your teen is a good student, however, you may be able to offset some of the damage to your wallet.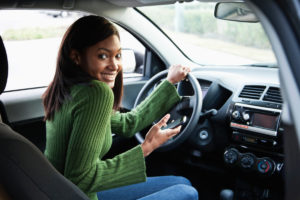 Why do auto insurance companies charge more for teens?
The stereotype of teenage drivers includes speeding, carelessness and probably a lot of time on their cell phones. And statistics seem to back up some of these stereotypes. Generally speaking, teens don't have the driving experience to respond well to dangerous situations on the road.
That, and their potential for recklessness, makes them a big risk for insurance companies:
Auto crashes are the leading cause of death for U.S. teens, according to the federal Centers for Disease Control and Prevention.
More than 80 percent of teen drivers surveyed by the Allstate Foundation and the National Organizations for Youth Safety have talked on a cell phone while driving; 68 percent acknowledged texting while driving.
About 73 percent of teens surveyed in Southern California said they had been exposed to reckless driving, speeding and driving while intoxicated, according to the National Highway Traffic Safety Administration (NHTSA). It's worth noting that these teens considered 93 miles per hour the threshold for speeding.
More than half of teens involved in fatal crashers were not wearing seat belts, according to the NHTSA.
Good student discounts
How do you convince an insurance company that your teenager is more than just another statistic and deserves a lower premium? You might be able to get a discount by showing your teen's report card to your insurer. Good students are usually eligible for a variety of auto insurance discounts — because, from an insurance company's perspective, good grades indicate maturity and responsibility.
State Farm, for example, offers student discounts for teens who meet one of the following criteria:
Ranking in the upper 20 percent of their class.
B average or higher.
Grade-point average of 3.0 (out of 4.0) or higher.
Appearance on the dean's list or honor roll.
Homeschooled kids can qualify by placing in the top 20 percent for national standardized tests, including the PSAT, PLAN, SAT-1 and ACT.
Nationwide and GEICO also give student discounts to teens with at least a B average; Nationwide's discount is 15 percent. Your auto insurance company likely will ask for proof of your teen driver's academic achievements. AAA, for example, accepts a copy of the most recent transcript or report card, or a certification form completed by a school official.