Chris Kissell
Insurance needs may change once you reach your golden years. Having full-time, live-in grandchildren can further complicate the picture.
About 7.1 million children live with a grandparent, according to the U.S. Census Bureau. That's nearly 10 percent of the 73.9 million children living in the United States.
Here are some insurance needs to consider if grandchildren are living under your roof.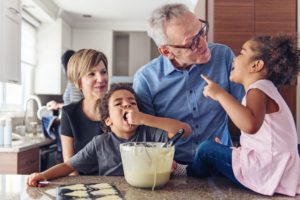 Car insurance
If you're older – especially if you're retired – driving may not be the priority it was earlier in life. Unless, of course, you have live-in grandchildren, says Carole Walker, executive director of the Rocky Mountain Insurance Information Association.
Because grandparents likely will be driving their grandkids and their grandkids' friends around, they're more likely to get into auto accidents, Walker says.
If you have relatively modest coverage, consider increasing the bodily injury liability limits on your car insurance policy. Call your car insurance agent or company to determine the right amount. Typically, people with significant assets should carry at least a few hundred thousand dollars worth of coverage.
If you really want to be safe, consider buying an umbrella liability policy. For a few hundred dollars a year, you can get an extra $1 million or more in coverage.
If you have a teen driver, beware that insurers consider teens to be the riskiest drivers.
"If the teen has their own car, it is generally less expensive to add them to your policy than to carry a separate policy," Walker says. "But be prepared to pay higher insurance rates."
Older drivers are considered the second-highest risk among motorists. So the combination of a teen driver and a senior driver on the same policy could significantly increase car insurance premiums, Walker says.
To keep these costs under control, ask about discounts such as good-student discounts for teens.
Home insurance
If you have young grandchildren living at home, odds are that their friends will come to visit. This increases your liability risk.
"Be cautious about pools, trampolines, bounce houses or swing sets that can increase your liability exposure," Walker says.
As with car insurance, make sure you have enough liability coverage on your homeowner's policy. Again, an umbrella liability policy can be an excellent way to protect yourself.
Incidentally, a single umbrella policy should protect you from liability judgments that exceed the insurance coverage limits of either your auto or homeowner's policy.
Health insurance
If you're still working, you may be able to add your grandchild to your workplace-based health insurance policy. First, you'll probably have to prove that you have legal guardianship of the child.
"There are circumstances where a grandchild will be considered a dependent, particularly when the grandchild is living with the grandparent full time," says Susan Pisano, a spokeswoman for America's Health Insurance Plans, a trade group.
However, she says the decision to cover a grandchild would be up to the employer's discretion. So if you find yourself in this situation, ask your human resources manager for more information.
If you aren't working, see whether your grandchild is eligible for free or reduced-cost health insurance through Medicaid or your state's Children's Health Insurance Program (CHIP).
In most states, you won't have to prove legal guardianship to qualify for these programs, according to AARP, an advocacy group for Americans 50 and older.
Some states will consider your income when deciding eligibility, while others will not. You can find out whether your grandchildren are eligible by using AARP's Benefits QuickLINK tool or by checking out the federal government's InsureKidsNow.gov website.
Life insurance
Life insurance can help ensure your grandchild is protected financially if you die. Life insurance benefits can provide money for everything from day-to-day living expenses to college tuition.
However, be prepared to pay a bit more than you might like, says Marvin Feldman, CEO of the nonprofit Life and Health Insurance Foundation for Education (LIFE).
"Because grandparents are usually older, they may face challenges renewing or securing policies," Feldman says. "Factors such as age and health are used to determine premiums, possibly making it more expensive."
Many types of life insurance are available; your needs and what you qualify for will determine the right choice for you. "An insurance professional can help evaluate the coverage options – not only for what kind, but more importantly, how much is required to cover their needs," Feldman says.
If money is tight, consider buying a term life insurance policy. Such insurance pays benefits if you die during an established period of time, such as 20 years.
Term life insurance is less expensive that whole life, but most insurance companies won't sell a policy with the term ending after your 80th birthday, according to the National Association of Insurance Commissioners.
If the grandchild in your household is a minor, it's better to name a contingent beneficiary, or trustee, on the policy. Otherwise, payment to the child may be delayed until after a court sifts through your estate.