Flood. Earthquake. Hurricane. Wildfire. Each of these weather events can cause significant destruction to our property—and our wallets. But with hazard insurance coverage, you can rest easy knowing your assets are covered.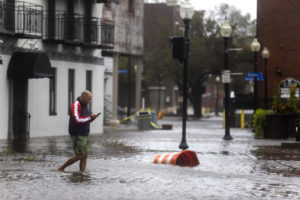 Home Insurance Coverages
If you own a home, your mortgage lender probably requires you to carry homeowners insurance. This policy protects the structure of the home and the belongings inside from damage and total destruction.
A common home insurance policy will usually protect you from damage caused by:
Smoke, fire and lightning
Vandalism and burglary
Wind and hail
Water damage from home appliances (like a refrigerator or water heater)
The weight of heavy snow or ice
Despite these coverages, home insurance does not protect your home from flood damage or earthquakes. And as we saw with the insurance problems along the Gulf Coast in 2005, you should always purchase flood insurance in addition to your home insurance policy if you live in a flood-prone area. Flood insurance can be purchased through some home insurance companies, or directly through FEMA's National Flood Insurance Program (NFIP).
Additional coverage for earthquakes and wildfires is also available in areas prone to these kinds of disasters. As you shop for home insurance, it's a good idea to ask your agent to factor these coverages into your overall premium quote to give you a better idea of what you'll be paying.
Car Insurance Coverages
Hazard insurance is also something to consider when you're insuring your vehicle. Next to your home, your car is probably one of the most expensive things you own. If you're leasing or financing your car, you probably carry collision and comprehensive coverage.
Collision coverage pays for damages to your car caused by a collision with another car or other object. According to the Insurance Information Institute (III), it can also pay for damage caused by potholes.
Comprehensive coverage can be considered more of a hazard coverage than collision coverage. That's because it pays for damage to your car from fire, smoke, hail, flood, vandalism—even missile destruction.
Because of the extensive coverage it provides, comprehensive coverage is great to keep on new and antique cars. Just make sure to evaluate the coverage you keep on your cars every year—if your car is paid off or loses value, you'll probably want to drop comprehensive coverage from your insurance altogether.
Oftentimes, the unthinkable happens when we're least expecting it. But with adequate insurance on your home and car, you'll rest easier knowing your assets are covered if the worst should happen.