Amy Higgins
Nearly all Americans will be required to have health insurance whether the federal insurance mandate goes into effect in 2014. For those who get coverage through their jobs, little will change. But those who don't have health insurance through their employers will be able to shop for insurance through new state-run health insurance exchanges.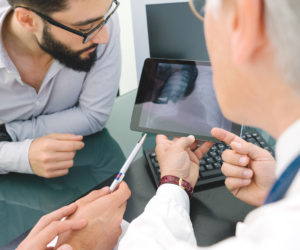 How will the exchanges work?
The goal of the exchanges is to create a more "organized and competitive" environment by creating a one-stop shop for those looking for private coverage, according to the Kaiser Family Foundation.
The exchanges will offer a variety of plans with different coverage levels and prices to reflect required and desired health insurance benefits. They are designed to serve those who don't receive coverage through employers (like the self-employed or part-time workers), as well as small businesses that want to shop for health insurance coverage for their employees.
Anyone will be able to get insurance through the exchanges, regardless of health conditions. And federal tax credits will help supplement premium costs for low-income individuals and families. If a state fails to set up its own exchange by 2014, the federal government will step in.
Following the rules
When the states set up their exchanges, the plans offered must meet certain standards, according to the National Association of Insurance Commissioners. For example:
All plans offered through the exchanges must provide an "essential" benefits package that offers general services like ambulatory services, emergency care, hospitalization, prescription drugs and pediatric services.
Each state must establish a Small Business Health Options Program to help employers enroll their employees in small-group health insurance plans.
All exchanges must offer plans with a variety of coverage levels, from catastrophic coverage to more comprehensive coverage. Out-of-pocket spending (cost-sharing) and deductibles must not exceed limits set by the U.S. Department of Health and Human Services.
Testing the waters
Some states already are launching health insurance exchange programs and are receiving grants to do so. These "Early Innovator" states were chosen to develop IT systems and share their designs and execution strategies with other states, according to the Department of Health and Human Services.
These IT systems must:
Handle such complexities as enrollment, premium tax credits and cost-sharing reductions for eligible consumers.
Be integrated with state Medicaid programs to allow consumers to easily switch from private insurance to Medicaid and the Children's Health Insurance Program (CHIP).
Be able to provide data to the Department of Health and Human Services or other federal agencies as needed.
Six states (Kansas, Maryland, New York, Oklahoma, Oregon and Wisconsin) as well as a united group of New England states (Connecticut, Maine, Massachusetts, Rhode Island and Vermont) have received Early Innovator grants, which totaled $241 million.
Each Early Innovator state is trying something different, according to the Department of Health and Human Services. For example:
The Kansas Insurance Department was awarded more than $31 million to extend the new Kansas Medicaid/CHIP eligibility system and integrate it with the Kansas Health Insurance Exchange.
The University of Massachusetts Medical School, which is leading the New England group, was awarded more than $35 million. It plans to create a system that allows all New Englanders to shop for health insurance.
The Oregon Health Authority's grant exceeds $48 million. It will be used to create a system where there are no gaps in coverage for anyone up to 400 percent of the federal poverty level.
The Oklahoma Health Care Authority received the most grant money — more than $54 million. It plans to focus on eligibility and enrollment, as well as incorporate real-time claims processing.