According to 2005 U.S. Census data, 8.3 million kids in the
United States are without health insurance. This means more than 11 percent of kids in the
U.S. have limited access to immunizations, prescriptions and regular developmental check-ups to keep them healthy.
The statistics are even grimmer for poor children: Nearly 20 percent of children in poverty do not have coverage, according to 2005 Census data.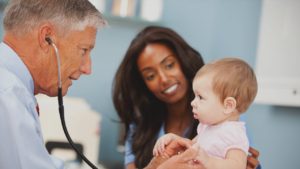 What is SCHIP and what does it cover?
S-CHIP, an acronym for State Children's Health Insurance Program, is run by Medicaid and is the fruit of a bipartisan congressional effort to cover kids whose parents' income is too high to qualify for public assistance, but too low to afford private health insurance.
SCHIP is regulated by each individual state, which means that some qualification guidelines may vary. Nonetheless, for those that qualify, SCHIP may cover the following care for children under the age of 18:
Regular physician visits
Immunizations
Prescription medication
Emergency care and hospitalization
Dental care
Vision care
Other facts about SCHIP:
SCHIP has been around since 1997.
In general, children under 18 living in a family (of four) earning less than $34,100 per year can be covered under SCHIP.
SCHIP is not a welfare program; both parents can be employed and still have kids who qualify for coverage.
Parents do not have to provide information about their immigration status when applying for SCHIP.
Application for children's health insurance is easy; most states allow application by mail or phone.
Parents, household members and legal guardians can apply for SCHIP.