Mary Lou Jay
Have you ever returned to your car to find it's been damaged by a hit-and-run driver? It's not an uncommon scenario. Sixty-nine percent of hit-and-run accidents involve parked vehicles, according to a claims study released by Allstate Insurance in 2010.
If you're the one who hit the parked car (and the owner is nowhere in sight), taking responsibility for your actions is the right thing to do, and you'll feel good knowing that you're sparing an innocent vehicle owner the difficulties of dealing with a hit-and-run accident.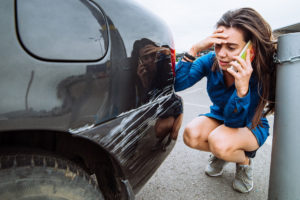 What to do after you hit a parked car
Most states require you to stop when you're involved in an accident, even if the other driver is not there. In California, hit-and-run drivers face serious penalties, including fines and jail time, according to the state's hit-and-run laws. Don't assume that you'll get away with it — there often are witnesses and surveillance cameras.
If you hit an unattended vehicle, here's how to do the right thing:
Locate the car owner. If you can't, leave a legible note in a conspicuous place (under the wiper blade). The California State Bar suggests that you include your name, address, phone number, license number, the vehicle identification number of the car you're driving, the name and address of the car's owner if different from yours, and a brief explanation of the accident.
Take down information about the vehicle you hit: make, model and license plate. Note any special circumstances that contributed to the accident (slippery roads, no light, vehicle sticking out).
Notify local or state police.
Notify your auto insurance company.
What to do if you're the victim
If you discover that your car's been sideswiped by a vehicle that's left the scene, the first thing to do is look for potential witnesses. If the accident took place in a parking lot, maybe an employee collecting shopping carts saw it happen. Perhaps a hostess at a nearby restaurant noticed the accident and recognized the car's make and model. Another possibility is nearby store surveillance tapes that might show the accident.
After you've made your initial survey and gathered the contact information of any potential witnesses, call your auto insurance company.
As annoying as it is to have your car damaged by some unknown driver, the situation gets worse if you discover that your auto insurance coverage doesn't pay for repairs. You need uninsured motorist property damage insurance to protect yourself financially from hit-and-run drivers, according to the Insurance Information Institute. Make sure that your uninsured motorist coverage covers damage to vehicles, not just personal injury.
You'll have to pay the policy deductible when you file a claim because the insurer can't go after the other driver. Check to see whether your uninsured motorist policy also covers the cost of renting a car while your vehicle is being fixed; otherwise, you'll be paying for temporary transportation out of your own pocket as well.