Justin Stoltzfus
A tough economy is inspiring resourcefulness, causing more Americans to operate some kind of home business, according to the Insurance Information Institute.
However, some of these home-business owners may not have the right insurance. In fact, about 60 percent of home-based business owners lack the proper coverage, according to the Independent Insurance Agents and Brokers of America (IIABA).
Part of the problem may be that home-based business owners may not realize they need business insurance. The IIABA study found that about 30 percent of respondents assumed their businesses were too small to insure. About 40 percent thought they already were covered by another type of insurance, like home insurance.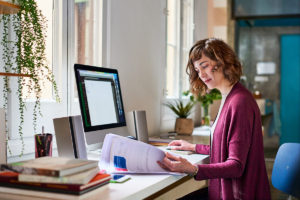 Why your home insurance policy isn't enough
Your existing home insurance policy may provide some coverage. But if you have a lot of expensive equipment (like electronics) that you use to earn income, your basic home insurance policy will cover only about $2,500 of its value, according to the Insurance Information Institute.
Other expenses that don't fall under your home insurance policy include:
Liability: This applies to any business that gets visitors. If any clients or suppliers ever come to your home, you need to cover potential injuries that happen there.
Loss of equipment and records: This includes damaged computers, files or other physical items, as well as the loss of records, which can devastate on a business. If a disaster destroys your business records, your home insurance policy won't cover lost income.
Employee injuries: Once you hire one or more employees, workers' compensation coverage becomes vital. If an employee is injured on the job, you'll need enough coverage to pay medical bills as well as wages until he or she can return to work.
How can I get the right coverage for my home business?
Depending on the nature of your business, you could get increased coverage under your home insurance or invest in a business insurance policy.
Home insurance endorsement: Some home insurance companies will allow you to add a business-specific endorsement to your policy, according to the Insurance Information Institute (a home-based day care endorsement, for example). And if your business' earnings are relatively low, your home insurance company might provide liability coverage.
Business insurance: Business insurance providers usually will let you customize a business insurance policy based on your needs, according to IIABA. There are special policies for small businesses and home-based businesses, for example.
Umbrella policy: Once you have the right business insurance policy (or have extended your home insurance to cover your business), you might consider an umbrella policy. An umbrella policy is a flexible "tent" over all of your assets. It can include your home, small business assets like vehicles and much more. For example, if a client racks up a lot of medical bills after getting injured on your property, and those expenses exceed what your home or business policy covers, your umbrella policy will kick in to cover the rest, according to the Insurance Information Institute.