Adam Kosloff
The storm is over, and you've got the hail damage to prove it. Yet you could get hit again by home insurance scam artists.
Home repair scam artists constantly are cooking up new ways to defraud homeowners and insurance companies. According to the National Insurance Crime Bureau (NICB), hail damage insurance fraud is on the rise. The number of claims referred to the NICB more than doubled between 2006 and 2009.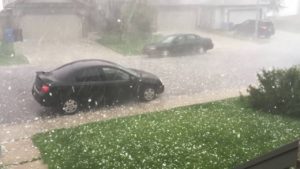 How do hail damage insurance scams work?
The NICB calls them "storm chasers" — unscrupulous repair people who try to rip off insurance companies after a storm. Some will make unnecessary repairs and charge insurers for them. Others will intentionally cause additional damage to a roof or the home's siding as an excuse to make more repairs.
An October 2011 CBS Chicago story highlights a case in which two workers associated with a company called Blue Rose Restoration were caught on video inflicting dents on a home's siding. Scam artists can get pretty creative, using fingers, knuckles and other instruments to cause damage.
How to protect yourself
The NICB provides offers these tips to prevent being victimized:
Remember that if a storm hits your area, you are a target. Fraudsters follow the storms and take advantage of those who already are stressed about their damaged homes.
Be suspicious if a repair person approaches you in an over-eager fashion immediately following a storm, encourages you to hire him or her without a contract, pressures you to do work that doesn't need to be done or generally makes you feel uncomfortable.
Keep detailed records. Take photographs of any and all damage to your home's roof, siding or property. Write down what was damaged, how it was damaged and when it was damaged.
Meticulously document conversations you have with your insurance company representative, repair companies and company representatives.
Ask the repair person or company for references, and check them out.
Demand a contract. Don't sign a contract with large blank spaces — a disreputable repair person might write in "extra" terms later. The contract should include the cost, work to be completed and the payment schedule.
Ask to see the repair person's driver's license, and write down his or her license plate number.
Take the time to talk to several repair people, and get more than one estimate.