Linda Melone
A natural disaster that damages your home can make you the target of unscrupulous service providers.
"We call them 'storm chasers,'" says Katherine Hutt, a spokeswoman for the Better Business Bureau. "They come out of the woodwork after a natural disaster and take advantage of people."
Shady roofers and other contractors may come to your door offering their services, claiming they'll deal with your insurer directly to save you the hassle. Then they bill your insurance company for repairs that never were made, or take a down payment and take off.
Here's what you need to know before you sign a contract or write a check.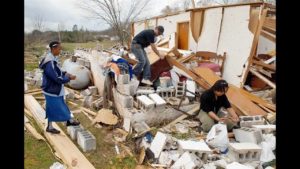 Roofing scams most common
After a disaster, scam artists often go door to door in neighborhoods that have sustained damage, says Frank Scafidi, a spokesman for the nonprofit National Insurance Crime Bureau. "Roofing scams are most common because the homeowner doesn't usually go on his roof and see the damage himself," he says.
For example, after a hail storm the contractor may tell you he's doing work on your neighbor's roof and offers to check out your roof as well. "They then go up on the roof and sometimes do damage themselves (by throwing rocks on the roof to mimic hail damage, for example) or they overstate the existing damage on the homeowner's claim," Scafidi says.
Other times, a scamming contractor tells a homeowner he has "leftover materials" from a neighbor's job and can do repairs at a discounted price.
Some scammers travel from other states when they hear of a natural disaster, Scafidi says. Some scam artists are so good at getting homeowners to sign contracts that they'll get a cash advance. The homeowner never sees them – or their money – again.
As a result of these scams, the crime bureau launched a campaign called "If You Didn't Request It – Reject It," encouraging homeowners to be wary of unsolicited visits from contractors.
The crime bureau tracks potentially fraudulent claims, known as "questionable claims." Insurance companies refer these claims to the bureau for review and investigation.
The number of questionable claims handled by the bureau climbed more than 9 percent from 2010 to 2011. Roofing claims and hail damage top the list of questionable homeowner's insurance claims, Scafidi says.
Flood scams
Next to roofing scams, water remediation (repairing water damage or removing water) scams represent the most common kind of fraudulent homeowner's insurance claim, says David Miller, CEO of Brightway Insurance in Florida.
The fraudulent contractor often gets the customers to sign an "assignment of benefits" form, which lets the contractor work out payment arrangements directly with the homeowner's insurance company, Miller says. "So the water remediation company can tell your insurance company everything was ruined and requires replacement, although little actual damage occurred," he says.
Contractors may rip out flooring before a claims adjuster arrives and demand ridiculous amounts of money for what really was minor damage, Miller says. For example, the fraudulent contractor may insist the hardwood floors throughout a house require $25,000 worth of repairs, when the damage should have cost closer to $1,000 to fix. The insurance company has no way of knowing how much damage actually was done.
Effect on insurance
Insurance fraud like the kind carried out by contractors inflates the cost of auto and home insurance policies, says Michael Barry, a spokesman for the nonprofit Insurance Information Institute.
"However, insurers, law enforcement agencies and state insurance departments have called the public's attention to this type of criminal activity," Barry says. "The public is aware of the need to thoroughly investigate a business before hiring them to do your home repairs."
Protecting yourself from scammers
To avoid becoming the victim of a homeowner scam after a natural disaster:
Never pay more than one-third of the total repair bill upfront.
Never sign an "assignment of benefits" form.
Always get written estimates for repair jobs.
Research the background of any contractor you consider hiring. Call your local Better Business Bureau to see whether any complaints have been filed against a contractor.
A legitimate roofing company should be able to provide local references and testimonials as well as proof of general liability insurance and workers' compensation insurance.