In catastrophe's wake, homeowners are, unfortunately, ripe for victimization. Con artists and unethical contractors may overcharge, provide unnecessary services and even steal from their clients.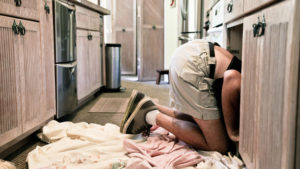 Home repair scams are most common after disasters because, when devastation strikes, massive amounts of money and aid flow into communities. Fraudsters may claim they've been sent by your home insurance company to repair damage or offer to perform an inspection that will be "covered" by your policy. After they collect your money, they'll either do shoddy work or persuade you to pay more for unnecessary work — or never even show up for the job.
Sadly, those with the fewest resources often are popular targets. Senior citizens, those for whom English is a second language and those who are reeling from a disaster are common victims, according to the National Center for the Prevention of Home Improvement Fraud. Women and first-time homebuyers also are common "marks" for scam artists.
Repair scams usually have one common element, according to the National Insurance Crime Bureau (NICB) — unsolicited help. In general, if a contractor offers help without you asking, be wary. The following situations can be red flags, according to NICB and the Maryland Office of the Attorney General:
A contractor shows up at your door after a flood and offers you a reduced price on repairs because he has "leftover" building materials from a job he did next door.
Your siding gets damaged in a thunderstorm. A contractor shows up at your door to offer a free estimate — without being called.
A repair person asks for cash up front.
So what can you do to protect yourself? NICB and the Federal Trade Commission offer these tips:
Get in touch with your home insurance company before hiring a contractor.
Get all the details of a job in writing, including the cost and payment schedules.
Connect with your local homebuilders' association or the Better Business Bureau to check up on a potential contractor.
Work only with contractors who are licensed and insured.
Never pay cash for the work — use a credit card or a check.
Confused about a contract? Don't sign it.
Beware of empty spaces in a contract. A crooked provider could fill in unfair terms after you sign the contract.
Be wary if a contractor asks you to pay the full fee up front — the industry standard is to pay one-third of costs up front and the rest upon completion of the job, according to the Federal Trade Commission.
Don't sign a completion certificate until the contractor finishes the work and the reconstruction job satisfies all building code requirements.
Never sign a "consent of owner" statement. This lets laborers and suppliers come to you for payment if the contractor fails to pay them.