Homeowners insurance protects your home and possessions from damage and loss. But flooding is not covered by basic homeowners insurance policies, to the surprise of many homeowners. Flood insurance is a type of insurance policy backed by the federal government and designed in cooperation with the local community and private insurance companies.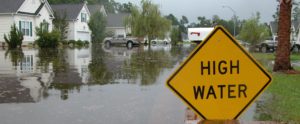 When should flood insurance be purchased—and from whom? That depends on the location of your home. If your home lies on a hurricane-prone beachfront or an area susceptible to flash floods, you may not be able to purchase flood insurance at all. If your home is located in an area recognized as a flood zone with no fail-safe protection (such as a dam), you should get flood insurance.
If you live in a Special Flood Hazard Area (SFHA), you will be required by law to have flood insurance. If you live in a low-risk flooding area, it is not necessary to purchase flood insurance.
Premiums and deductibles for flood insurance can vary widely, depending on the value of the property being covered and its location. Flood insurance costs consumers at least a few hundred dollars a year.
The best place to find information regarding homeowners flood insurance is through FEMA's National Flood Insurance Program (NFIP). According to the NFIP, nearly $700 billion dollars of property was covered against flooding by this program in 1993.
The NFIP Web site is an informative resource for home flood insurance information. You may reach the National Flood Insurance Program at 800-427-5593.