Hiring a contractor to add value to your home investment makes sense. Always verify all contract workers' compensation coverage before commencing. Otherwise, you may find yourself responsible for injuries incurred by the workers while they are remodeling or repairing your home.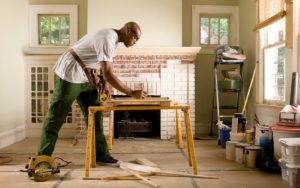 There are some other important insurance issues you should examine before selecting a contractor. It is advisable to check the validity of all credentials, including the contractor's or remodeler's license and any applicable trade group memberships. Compare costs and solicit bids from more than one contractor or remodeler. Get all bids in writing, and make sure each bid includes building specifications (what is being worked on and to what extent), labor costs, material costs and time needed to complete the project. This will protect you from unforeseen costs, while further protecting you from future misunderstandings and other misfortunes.
You can call the Better Business Bureau (BBB) to quickly and easily verify local references. The local BBB office can also let you know if there have been complaints made against the contractor or remodeler.
Finally, most contractors and remodelers will gladly show you a sample of their work done at other nearby homes. Accept this offer. See their workmanship for yourself. Speak with previous customers and clients about how the contractor met their needs, stayed on schedule and worked within the projected budget.