The threat of natural disasters such as earthquakes, hurricanes, floods, tornadoes, hail, mudslides and wildfires is a reality of life for many Americans. These anomalies cannot usually be avoided, but their effects on your property and life can be minimized.
If you become a victim of one of these disasters, what should you do?
The three steps you should take are: plan, prevent and insure.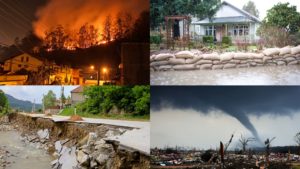 Plan
Escape routes should always be planned out in advance, whether concerning fire, flood, hurricane or other disaster alerts. In addition, every member of your household needs to know who/where to call for help, and to let others know they are safe or in trouble.
At least twice a year the entire household should review escape routes and plans together, making sure emergency telephone numbers still operate. Post escape routes and phone number information in a prominent place for quick referral as necessary.
During high risk seasons, consider putting irreplaceable (or hard to replace), important items like passports, birth certificates, military papers, marriage/divorce papers and jewelry, along with a video or photos of your material goods (and a serial number list/receipts/appraisals) in a safe deposit box. Overnight bags should also be packed for each family member and for pets, and identification and money/credit cards should be kept with you at all times.
Don't forget your precious heirlooms and photos if you have to vacate your home!
Flood Planning
You may live in a flood-prone area, without even realizing it. If your home has been involved in a recent wildfire, it may now be susceptible to flash flooding. If your home is downstream from a dam, this could be a problem. If you are in a construction area (such as a highway-widening project), new water flow patterns could put you at risk.
Assess your risk potential by calling your county (or similar) building authorities and conferring with your homeowners insurance agent. Escape plans and lists of treasured possessions are essential. A plan for relocating your possessions to higher or lower ground is also necessary, as items in the basement are generally not covered by flood insurance.
Hurricane Planning
You are probably aware whether or not you live in a hurricane-prone area. But hurricanes have been known to be unpredictable. You should plan similarly for a hurricane as for a flood; however, you should also keep supplies such as plywood and nails on hand with which to secure your house before you evacuate. Then, when you're told to leave, go!
Wildfire Planning
We've had some massive wildfires across the country the last few years. Wildfire planning should be the same as for floods, except that relocating your possessions to higher ground is not necessary. However, you might want to move large valuables (antiques, paintings, etc.) from fire danger.
Tornado Planning
Everyone should listen for tornado warning sirens and proceed to a designated place when they sound. Having an emergency telephone list is also vital. Never leave your home as a tornado is approaching.
Earthquake Planning
Earthquakes can occur at any time and place, so in addition to evacuation plans and emergency phone lists, you should also have emergency medical kits accessible in your car and at your office. Take measures to help ensure the preparedness of your children's school, also.
Prevent
Not much can be done to prevent earthquakes, hurricanes or tornadoes. However, measures can be taken to prevent wildfires and floods (or mudslides). The American Red Cross and Federal Emergency Management Agency Web sites (www.redcross.org, www.fema.gov) are invaluable sources of information.
Wildfires
Using great care with open flame (cigarettes, camp fires, spark-generating equipment) goes a long way toward fire prevention, as does keeping your chimney flue clean and using spark arrestors.
However, wildfires can occur despite your best efforts. To help keep fire away from your house, create and maintain defensible space. (The book, Living With Wildfires – Prevention, Preparation, and Recovery, is very informative on defensible space.)
In addition, consult your insurance agent and state agricultural college for advice on wildfire prevention as these experts can be helpful sources of information. Many insurance companies actually inspect for defensible space before issuing or renewing insurance.
Floods and Mudslides
Living in a known flood plain is unwise. If you do live in a high-risk flooding area, plan landscaping and water diversions to protect your property. Grass can help anchor the soil after a fire, reducing erosion and further flooding.
Insure
No matter how prepared you are, sometimes things go wrong. Having the right insurance during these times is critical.
Your renter's or homeowners policy covers many things, but may still be inadequate. For example, if a plumbing valve bursts inside your home, your homeowners policy will probably cover the damage. However, if the sewage or water main pipes outside your home break, you may only be covered if you have flood insurance.
If a flash flood occurs, your homeowners insurance will likely not cover your losses; you will need flood insurance. Even with flood insurance, your possessions in the basement will probably not be covered, so you will need to move things upstairs. In addition, flood insurance policies do not take effect for 30 days; keep this in mind when you purchase a policy of this type.
Earthquake insurance is essential in areas of the country that are more prone to this type of disaster. But what many people do not know is that various types of earth movement, including landslides, are covered under this kind of policy. So if a boulder rolls down a hill and into your house, your homeowners insurance may not be the only coverage you need.
Regardless of your situation, it is important to find the best homeowners insurance policy for you and your property.