Amy Higgins
Leaving a job to pursue your own business means working your own hours, being your own boss — and paying your own expenses, which includes health insurance. If you start your own business without proper health insurance coverage, you could face extreme medical bills in the event of a major illness or accident. Before you make the leap, review your options.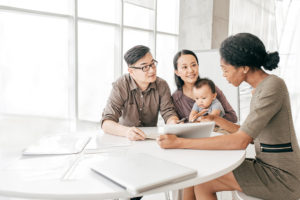 COBRA
After you leave your job, you can purchase COBRA health insurance for up to 18 months. You must fill out the appropriate forms from your employer's benefits department within 60 days of leaving your job and pay the full premium, according to the Insurance Information Institute. With COBRA insurance, you'll have peace of mind knowing your health is insured during that time period, but prices can be steep. According to Families USA, a consumer health organization, the average national monthly premium for family COBRA coverage is $1,069. However, those who lost their jobs involuntarily between September 1, 2008, and May 31, 2010, may be eligible for a substantial discount under federal law. This subsidy amounts to 65 percent of COBRA costs and is available for up to 15 months, according to the IRS.
Trade-specific health insurance
Depending on your field, your trade organization may provide health insurance to its members. The National Association of Realtors' Core Health Insurance, for example, offers limited medical insurance plans for members age 18 to 65. The company touts "guaranteed acceptance" (which, however, is contingent on state availability and age) and does not require buyers to answer medical questions or undergo medical exams. Monthly premiums start at $70.69 for plans that cover everyday illnesses and accidents, but maximum benefits paid in each medical situation are capped. The National Association of Realtors does not provide major medical insurance — coverage for major illnesses and accidents. There's a waiting period for those with pre-existing conditions.
National Association for the Self-Employed
The National Association for the Self-Employed offers members who are in good standing and up to date with membership dues the option to buy policies through health insurance providers such as Assurant, BlueCross BlueShield of Illinois, UnitedHealthOne and Humana. Benefits are available to those with a bronze, silver or gold membership, but the higher your membership, the greater your benefits. According to the association, member health benefits include ambulance reimbursement, a prescription card, cash benefits for hospitalization because of accident or illness, and discounts on eye care. Critical illness insurance along with lab testing and imaging are available to gold members.
Freelancers Union
Freelancers Union offers group health insurance in a limited coverage area in New York state. Its individual and group dental insurance coverage, however, is more widely available to eligible members. Its Dental Guard Preferred (PPO) plan pays 100 percent for preventive services, 80 percent for basic services and, after a 12-month waiting period, 50 percent for major services, up to an annual maximum of $1,000 for combined services. The $50 individual deductible is waived for preventive services. To be eligible for dental insurance, you must be an independent worker, meet residency requirements, work in an eligible industry or occupation, prove earnings or hours worked, and must not qualify for Medicare coverage.
If you are married, you may be able to obtain health insurance through your spouse's provider. You also may be able to find a reasonable rate for health insurance if you're a member of a professional organization or alumni group, the Insurance Information Institute says.
Contact individual insurance providers to compare prices. Rates may be high and coverage limited, but if you are self-employed, a percentage of your health insurance premiums is tax-deductible, according to the Insurance Information Institute.