The next big thing in automotive technology, the Smart car hit the road in the U.S. in early 2008.
Already popular in Europe for a decade, it seems the U.S. is always the last to catch on when it comes to automotive innovation. Nevertheless, this mini sensation's urban, stylish appeal is stealing the hearts of Americans nationwide.
But just how smart are these tiny cars? And what's the appeal that has people trading their cars in droves, depleting Smart car inventory from dealerships, and puttering down the freeway in these miniature sub-compacts?
Smart Appeal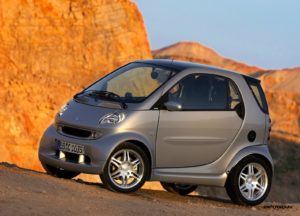 Measuring a little over eight feet in length and weighing in at a mere 1,800 pounds, the Smart car comes in several different models, from the basic three-cylinder, four-speed version to a more deluxe, decked-out automatic.
At a base price of around $12,000, this affordable ride offers drivers some major advantages, including:
Fuel Economy: Depending on the model, driving habits and road conditions, Smart cars score up to 60 miles per hour, with an average mpg in the 40s.
Maneuverability: Test drives reveal responsive steering, comfortable handling and ease of parking in tight spaces.
Safety Features: Standard Smart equipment includes electronic stability control (ESC), designed to keep drivers from swerving off the road; anti-lock brakes (ABS), enabling quick stops; a reinforced steel safety cage, keeping driver and passengers more stable in accidents; two front-impact and two side-impact airbags, reducing the likelihood of head injury; reinforced axle assembly, to help maintain vehicle integrity; solid steel door beams for reinforcement; ignition disable devices that help prevent theft, and seat belt pretensioners that lock drivers into the safest position possible when an accident occurs.
Fun Driving: Most Smart car owners say they thoroughly enjoy their ride!
But Are They Safe?
The first question non-owners ask when considering a Smart car purchase is "Are they safe?" Forget mileage and entertainment value; how can such a small vehicle protect me on the road?
Just because it's small doesn't mean it isn't safe, says Smart car manufacturer Mercedes-Benz. Well known for putting safety first, the automaker swears by the vehicle, which has earned one of the top spots in safety tests among small automobiles.
Insurance Institute for Highway Safety (IIHS) president Adrian Lund agrees, saying, "Among the smallest cars, the engineers of the Smart did their homework and designed a high level of safety into a very small package."
Expanding on those ratings, the National Highway Transportation Safety Administration (NHTSA) gave the 2008 Smart Fortwo, the luxury version, four out of five stars for driver front safety and three out of five stars for passenger front safety in crash test ratings.
Though admittedly more reliable in collisions with immovable objects than when matched with larger cars, Smart earned a rating of "good" in front end and side impact tests, due in large part to recent structural and safety upgrades. In fact, CarConnection.com gives the 2009 Smart Fortwo an 8 on a scale of one to 10 for safety.
"All things being equal in safety, bigger and heavier [are] always better," Lund adds. But among the smallest cars, Mercedes-Benz seems to have hit the nail on the head when it comes to designing a safe, affordable ride.
Smart Car Sensibility
The Smart car, which seats two comfortably, makes the most sense for commuters, who tend to drive longer distances back and forth to work.
Not large enough to haul families, many fans are trading in their second car in favor of this fuel-saving vehicle—and hanging on to a larger automobile for situations like family outings, or driving in poor weather or over rough terrain.
With a maximum speed capability of 85 to 90 miles per hour, the Smart car isn't exactly a speed demon. But reduced capacity for speed only makes it safer—and with "smart" driving and wise decision making behind the wheel, that translates into lower auto insurance rates too.
As with any new car purchase, it's wise to check insurance rates before signing on the dotted line. For help finding an affordable, smart policy, contact InsureMe.com today.
A Smart Purchase
If you're looking for a cost-effective ride that's as smart as its name, do yourself a favor and check out the Smart car. With fuel economy, maneuverability, safety and fun on your side, you can easily relax and enjoy the ride.