Amy Higgins
Medical care can bring sky-high bills, especially if you have a high deductible or no health insurance at all. But instead of wondering how you're going to pay those bills, you may want to ask, "Could I be paying less?" Just as with many other financial transactions, bargaining is an option when it comes to health care.
For some patients, haggling may seem like a hassle, and some may be too embarrassed to negotiate with their doctors. However, according to a 2005 survey by the Wall Street Journal and Harris Interactive, many of those who were willing to go to the bargaining table found success. Seventy percent of those who negotiated with hospitals managed to lower their bills, while 61 percent were successful in bargaining with doctors and 56 percent with pharmacists.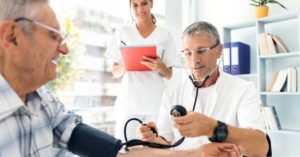 Tips from the trenches
If you don't have insurance (or have a high deductible), getting a head start on bargaining before your doctor's visit can give you more control over your bill. The Consumer Health Action Network recommends the following tips:
Call several providers in your area and ask how much it will cost for an office visit and for any anticipated procedures.
Ask what the provider charges for patients with Medicare or private health insurance. Medicare and private insurance plans often get cheaper "bulk" prices — and you may be able to talk a doctor into giving you the same rate.
Find out what the going rate is for the procedure you need. Resources like the Healthcare Blue Book can give you an idea of what prices to expect in your area. For instance, allergy testing in Littleton, Colo., costs about $13, and the total fair price of a tubal ligation procedure in an ambulatory surgery center in Phoenix is $3,165, according to Healthcare Blue Book.
Cash speaks volumes, so ask whether you can get a discount if you pay cash for all services the same day as your appointment. Health care providers might be willing to offer a discount because they'll get the money sooner and will be able to avoid transaction fees from your credit card company.
If you expect the cost of your medical care to exceed what you can afford to pay up front, ask whether you can work out a payment plan.
Have a face-to-face conversation with your doctor. You may get better results because a billing office may not be able to quote you an accurate price before the doctor examines you.
Talking to your doctor can yield surprising results. If you express your concerns about how you'll pay for your procedure or prescription, your doctor might be able to offer solutions. For instance, there may be an alternative, lower-cost procedure that the doctor can perform, or he may be able to give you free samples of medication. You also might be able to avoid the high costs of name-brand prescriptions if you ask your doctor to prescribe the generic form.
Assistance programs at hospitals can sometimes help those who are unable to catch a financial break. According to health care analysis company change:healthcare, asking a hospital social worker for help often can lead to discounted care or government assistance for those who qualify.
It goes both ways
Some patients may find it difficult to talk to their doctors about their financial concerns, so doctors may want to broach the subject themselves. According to a 2003 Journal of the American Medical Association study cited by American Medical News, physicians were largely unaware of their patients' struggles in paying for medicine. And the consequences could be severe. If they don't get the help they need to navigate the financial aspects of their treatment, patients may skip needed medical care altogether.