Jill Overmyer
The tornado outbreak during the spring of 2011 reminds us all of the destruction that Mother Nature can cause. You can't predict when and where a tornado will strike, but you can try to minimize the damage to your home, business and finances.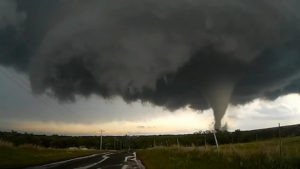 The right insurance coverage
Examine your home or business insurance policy.  Most home insurance policies will cover the physical damage a tornado causes to your home, according to the Insurance Information Institute. It also often will include additional living expenses (ALE) coverage, which covers living expenses while your home is uninhabitable.
When it comes to business insurance, your policy likely will cover the physical damage to your building, according to the Insurance Information Institute. Consider adding business interruption coverage, which would reimburse you for the money you would have made, had the disaster never occurred. It also will offer money to help you operate your business out of a temporary location.
Make copies of health, business and home insurance cards, bank statements and identification. Store them in a box that you can grab during an emergency. Having your home insurance information as well as your insurance company's contact information on hand can make filing a claim easier when you're rattled in the aftermath of a tornado.
Riding out the storm
In addition to getting the right insurance, there are many things that home and business owners can do months before a dreaded tornado warning:
Determine where your family or employees will seek shelter before a storm hits. Those living in areas frequently threatened by tornadoes might want to consider building a safe room if a basement or storm shelter is not available. If you don't do that, you should determine the safest area of your home or building. According to the Insurance Institute for Business and Home Safety (IBHS), this usually is a small, windowless interior room, like a bathroom.
Prepare an emergency kit. According to the Federal Emergency Management Agency (FEMA), this kit should contain enough supplies for each person for three days.
Establish a post-tornado meeting place.
Keep trees trimmed and remove dead branches, IBHS recommends. This will help prevent them from falling onto your home or building in high winds.
When remodeling, consider replacing windows, skylights, doors and basic structural elements with materials that can withstand higher winds. You could replace wooden entry doors with metal doors and reinforced frames, for example, according to IBHS.