The U.S. is purring with cats, as Americans own about 86.4 million feline friends. Yet millions of those cats are uninsured. At VPI Pet Insurance, America's largest pet insurance company, only 13 percent of the 485,000 pets covered  are cats.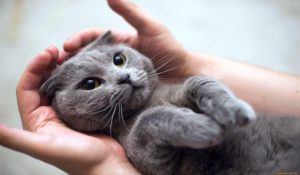 "Cat owners believe that their indoor cats will not have accidents, get poisoned or have cat fights," says Jack Stephens, president and founder of Pets Best Insurance.
Such thinking can be costly. In homes with several cats, the pets can injure each other when playing or fighting. Also, households are filled with cat poisoning hazards, including lilies, jewelry and chocolate. Furthermore, many cat owners believe that common conditions such as ear infections and dermatitis are inexpensive to treat. But that's not the case: A typical trip to the vet costs between $50 and $100, and that doesn't include medications.
Despite all of that, "cat owners simply do not want broader coverage for a higher price," Stephens says.
Pets Best Insurance has launched a new type of insurance to appeal to cat owners who want limited insurance coverage at a relatively low price. The insurance covers 21 costly feline conditions and illnesses – such as kidney disease, heart disease, hyperthyroidism and cancer.
However, cat owners should be aware that the "Feline Illness" plan will cover only the 21 listed conditions, Stephens says. So if other conditions arise, policyholders wouldn't be covered.
One advantage of the program: $4,000 in annual benefits for each policyholder. Furthermore, 70 percent to 90 percent of "actual" veterinary costs are covered after you pay the deductible. Actual costs are the grand total of the bill, with no limits or caps. Some vet insurance policies cap how much they'll pay for a covered illness or procedure.
For a 3-year-old cat in California – with a $200 deductible and an 80 percent reimbursement rate – the "Feline Illness" insurance would cost $4.44 a month, Pets Best spokeswoman Hadley Rush Mayes says.
However, kitties with pre-existing conditions that can't be cured need not apply – a non-curable condition can't be cured, and Feline Illness will cover only those conditions that appear after the coverage kicks in, Stephens says.
What other options do cat owners have?
Traditional pet insurance
Instead of signing up for an inexpensive limited- coverage plan, cat owners can opt for traditional pet insurance, provided by insurers such as VPI . VPI's most popular plan carries a $100 deductible, with monthly premiums running $17 to $24 a month. Maximum benefits for this plan are $14,000 a year. For cat owners, most illnesses and treatments are covered, which may afford more peace of mind – and fewer out-of-pocket expenses – than the stripped-down "Feline Illness" plan.
"With VPI, you can see any licensed veterinarian in the world," company spokesman Adam Fell says.
With ASPCA Pet Health Insurance, a typical plan for a cat in California with a $100 deductible, 90 percent reimbursement and a $3,000 single-visit limit, pet owners can expect to pay about $22 a month.
The most popular plan from Embrace, another major pet insurer, will cover a cat in California with a $200 deductible, 80 percent reimbursement and an annual maximum of $5,000 for nearly $37 a month.
None of the major pet insurers will cover pre-existing conditions.
Veterinary discounts
If your cat has a pre-existing condition, you won't qualify for pet insurance, but you can get veterinary discounts. For instance, discount plan Pet Assure offers a 25 percent discount on veterinary bills, regardless of whether your pet already is ill.
To obtain discounts, a cat owner must pay for a Pet Assure membership. For one cat, the cost is $79 a year or $7.95 a month. However, there are catches – a member must use a veterinarian within the Pet Assure network, which has 3,000 registered vets nationwide. Also, keep in mind that membership applies only to discounts; cat owners may incur large out-of-pocket expenses, particularly for costly diseases that require lots of veterinary visits and medication.
Stephens, the Pets Best Insurance founder, says full coverage for cats is preferable. "But for owners who want to lower their cost and greatly reduce their risk of a serious and costly medical condition happening to their cat, (Feline Illness) could be their answer," he says.