If you're an Iowa resident looking for insurance, you're in the right place. We've compiled all the info you need to help you find home, auto, life, health or long term care insurance right here on this page.
We recommend you read it over, contact the Iowa Insurance Division at (515) 281-5705 with any questions, and let us help you find the coverage you need today.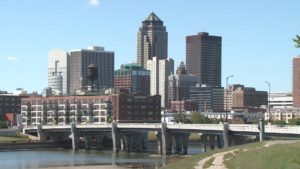 Under Iowa law, every motorist is required to provide proof of financial responsibility. Simply, if you do not wish to carry Iowa auto insurance, you must have an unlimited source of funds available to you to cover any damages stemming from an auto accident.
The majority of Iowans do not have these types of funds available to them, and often times purchasing car insurance is much easier than establishing financial responsibility with the state.
If you wish to show financial responsibility by purchasing auto insurance, there are some things you should know before purchasing a policy.
In Iowa, the minimal requirements for bodily injury and property liability are 20/40/15. This means you must carry at least $20,000 in bodily injury coverage per person, $40,000 in bodily injury coverage per accident and $15,000 for property damage per accident.
Remember that these are the minimum limits set by your state and may not be enough to cover your financial responsibility if you are found responsible for an accident. Your insurance agent will likely advise you to purchase higher amounts of coverage. Often times, you will pay only two or three dollars more a month for up to three times the coverage.
Health insurance protects you by covering your health care costs for a somewhat reasonable price. The most affordable health insurance is available through group plans, most of which are sponsored by employers.
However, if you are unemployed, self-employed or going to school, an individual insurance plan may be the route for you. While it may cost more than group coverage, a major accident or illness would cost you far more than the premiums you will pay for coverage.
The Insurance Information Institute (I.I.I.) recommends the following options to consider for getting the best coverage for the best price in your state:
If you were previously covered under a group policy, ask your insurer if he or she can convert it into an individual policy. You may pay a higher rate than you did before and your benefits may be more limited, but the terms of your policy may still be better than they would under your own policy.
If you are married, see if you can be added to your spouse's group plan.
Try to join a health plan through a professional association or alumni group, as they may offer less expensive rates.
If these options do not compensate for your lack of coverage, buy individual health insurance. Rates may be more costly; but it is important to protect yourself financially if catastrophe strikes. Note: If you are self-employed, most of what you pay in premiums will be tax-deductible.
There are many different types of homeowners policies to choose from. However, the three most common are basic, broad and special forms. Here's a brief description of each to help you in your search for the right protection.
Basic:  Protects your dwelling from 11 basic perils such as fire, lightning, wind, hail and theft.
Broad:  Protects your dwelling from the basic 11 perils plus six more. Additional perils include weight of snow or ice, collapse of structure and damage from household appliances.
Special:  Protects your home from all perils, except for damage or loss caused by flood or earthquake.
According to the Insurance Information Institute (I.I.I.), your home insurance premium is likely to be based on the following factors:
The square footage of your home
The square footage of any other structures on your property
Building costs in your area
The amount of crime in your area
The likelihood of natural disasters in your area
How far your property is from the nearest fire department
For most people, protecting their family is a no-brainer. And yet, many Iowans do not have life insurance—thereby putting their loved ones at risk for financial loss in the event of an untimely death.
After you die, your family is likely to need financial support. A life insurance plan can provide financial support by leaving funds for:
Final expenses
Income replacement
Debts and financial obligations
Charitable giving
The two most common forms of life insurance are term and permanent life.
Term Life
Term life offers coverage for a limited amount of time as outlined in your policy, which means that your beneficiary will only receive a death benefit if you die during the policy's term. While many people see this as a drawback, term policies generally carry lower premiums, making them appealing for those with limited incomes.
Permanent Life
Permanent life offers coverage for the duration of your life, often guaranteeing a death benefit. While permanent life policies are more costly than term life policies, part of the premium is invested by your life insurance company to build cash value.
It is important to note that there may be variations of these policies available, and you will want to discuss your needs with a life insurance agent to ensure proper coverage.