If you're a Kansas resident looking for insurance, you're in the right place. We've compiled all the info you need to help you find home, auto, life, health or long term care insurance right here on this page.
We recommend you read it over, contact the Kansas Department of Insurance at (800) 432-2484 with any questions, and let us help you find the coverage you need today.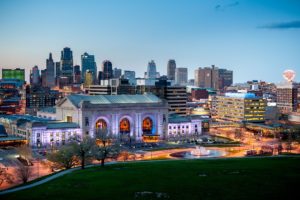 If you are a Kansas driver, you are required by law to carry car insurance. Kansas law requires the following types of coverage:
Bodily Injury Liability
Provides coverage for medical expenses and other covered costs if you are responsible for injuring another person in a car accident.
Property Damage Liability
Provides compensation if you damage public or personal property in a car accident.
Personal Injury Protection (Kansas No-Fault)
Provides coverage for medical expenses, funeral expenses and other lost wages for you and your passengers injured in a car accident, regardless of who was at fault.
Uninsured/Underinsured Motorist Protection
Provides coverage for expenses associated with injury caused by an uninsured or underinsured motorist.
Receiving discounts on car insurance is one of the best ways to lower your premiums. The Kansas Department of Insurance urges you to ask your insurance agent about discounts for:
Insuring more than one car on a policy
Good student drivers (under the age of 25)
Completing safe-driving courses
Safety devices (airbags, anti-lock breaks, etc.)
Anti-theft devices
Low mileage
Accident-free record
Insuring home with the same company
Insurance agents and brokers may not offer discount opportunities up front, so be sure you ask!
Most insured Kansas residents hold group insurance through their employers. However, those who are self-employed or work for companies that don't offer health insurance often buy individual policies.
Both group and individual policies encompass the following medical services and products:
Childhood immunizations
Newborn coverage
Adopted baby coverage
Maternity expenses
Mammograms and pap smears
Breast reconstruction surgery
Prostate cancer screening
Diabetic supplies
Mental health and substance abuse coverage
Cancer treatment drugs
Dental anesthesia for the young, elderly and handicapped
Before they will insure you, Kansas health insurance companies typically examine two factors: your age and your health.
The older you are when you buy your health insurance coverage, the higher your chances of becoming ill. Therefore, your age helps determine both your insurability and the price you pay to get insured.
If you are ill or tend to be ill, you are a "high risk" to your insurance provider. Recurring health conditions also make you a high claims risk, raising the price you must pay and making obtaining a health insurance policy much more difficult.
Without Kansas homeowners insurance, you risk losing your home and its contents to fire, storms and other catastrophes. But insuring your home protects the building itself and everything you own inside.
The most common home insurance policies come in these forms:
Basic
Provides limited coverage against 11 perils such as fire and lightning; wind and hail damage; smoke damage; vandalism and damage caused by civil riot or misconduct.
Broad
Provides extended coverage from the basic 11 perils such as falling objects; weight of snow and ice; collapse of building and water damage from home appliances.
Special
This is the most common form of home insurance in Kansas. It protects the structure of the home and most of its contents from all perils.
Modified
This coverage was designed to provide coverage to homes that do not meet the requirements of other policies, and is restrictive in what it covers.
You will also want to protect yourself by insuring your home and its contents for replacement cost, rather than actual cash value.
Some items in your home may lose value over time. Insuring your home and its contents based on replacement cost would provide compensation for what these items cost today, rather than what they may have cost when you purchased them.
Life insurance provides an unmatched opportunity to care for your loved ones when you die. But more specifically, it helps your family meet all kinds of goals in your absence.
Most people buy life insurance to replace their family's lost income. Others buy it so their loved ones will have cash to pay off outstanding debts when they're gone, ensuring their spouse or children won't have to sell cherished possessions to pay taxes or funeral expenses. Still others use it to pay for their family's education, relocation or retirement.
Regardless why you choose to buy life insurance, this kind of purchase is a wise one if you want to make future provision for your family.
Over 700 insurance companies and approximately 15,000 agents are currently licensed to sell life insurance in Kansas, according to the Kansas Insurance Department. This creates a competitive marketplace, and increases the likelihood that you'll find just the right life insurance protection you need for an affordable price.
When trying to decide just how much life insurance you should purchase, consider the following factors:
Any immediate needs your family may have at the time of your death
Funds that might be needed during a readjustment period
Ongoing financial needs
Many Kansas life insurance companies say you should purchase life insurance equal to five to seven times your annual take-home pay. However, this is a rule of thumb and only provides a guideline. Speak with a licensed Kansas life insurance agent to determine how much insurance you should buy to cover your family's actual needs should you pass away.