Crawford Frazer
A white-sand Caribbean beach, snow-draped Colorado mountains, a jaunt through Europe — it all sounds fantastic. There's just one concern — who's watching your house while you're on vacation? Here are some tips for making your home less vulnerable so that you won't have to file a home insurance claim when you return.
Higher risk
Without someone tending to the house, everyday risks suddenly become a lot more worrisome, according to the National Association of Insurance Commissioners.
Break-ins. A full mailbox. An unkempt lawn. No lights turned on when night falls. These are just a few of the signs that tempt burglars.
No emergency response. Something like an electrical fire will cause much more damage if no one notices and calls 911.
Liability issues. Who knows what may happen while you're away? Neighborhood kids might get hurt on your property, which creates a property liability problem for you. Things like swimming pools are known as attractive nuisances — if a child is hurt or killed while swimming in your pool (even when you're thousands of miles away), you and your home insurance are liable.
Your home insurance policy may not cover you if you're away from the house for a certain number of days. If you're heading off for a couple months or more, you may need to purchase special vacant-home insurance.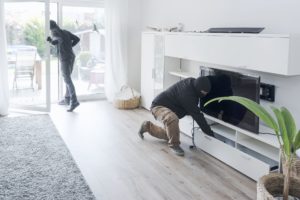 Smart precautions
Now that you know what could happen while you're gone, here are some tips for preventing the worst:
Adjust the thermostat. You don't want to waste money on utilities while you're gone — but you don't want pipes to freeze or heat to damage your belongings either. Armed Forces Insurance recommends setting the temperature at no lower than 55 degrees in cold climates and no higher than 85 degrees in warm climates.
Protect your pipes.If you'll be gone for a long time, the safest thing to do is to shut off your water and drain the water lines, according to Armed Forces Insurance. If you choose not to do this, at least make sure to insulate the pipes (especially those next to outside walls) and turn off water to individual appliances. Ask for a plumber's assistance if you're unsure of what to do.
Prepare for high wind and rain. This is especially important for places where storms are common. The Insurance Institute for Business and Home Safety (IBHS) recommends securing all windows and doors, moving furniture away from windows and trimming overhanging branches.
Prepare for lightning, too.Unplug all appliances to prevent damage from power surges.
Make your house look occupied. Some good ways to dissuade burglars include suspending your mail and newspaper delivery and setting up timers so that your lights turn on and off at different times. IBHS recommends installing tapered deadbolt locks on entry doors, hiring someone to maintain the lawn or shovel snow and informing neighbors how long you'll be gone.